Archos has announced yet another addition to its tablet family &#151 Archos 70b. The unique aspect of this tablet is its powerful processor with HDMI-out support. Most important is that Archos 70b Internet Tablet runs Android 3.2 Honeycomb operating system. Priced at $200, this Archos tablet directly competes with the Amazon Kindle Fire tablet that comes with Android 2.3 Gingerbread and lower power hardware.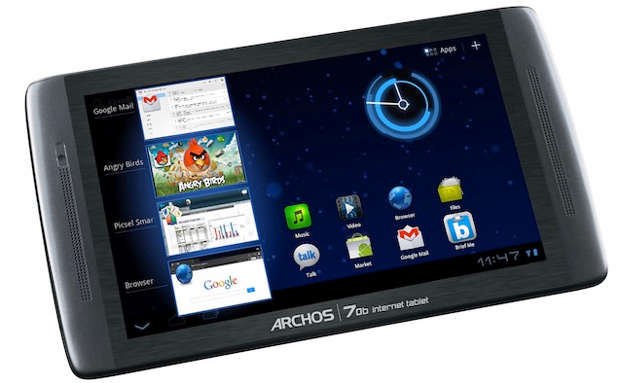 Archos tablets have won acclaim for using compelling and cutting-edge hardware and different screen sizes, along with the latest Android 3.0 Honeycomb. The latest addition to the Archos Internet Tablet family, Archos 70b Internet Tablet, will run a powerful 1.2 GHz mobile processor, but it is not clear whether it will be single or dual-core. By default, the tablet will have 512 MB of RAM which is as good as the 1 GB RAM since Honeycomb has not been optimized to make use of the extra memory.
Archos 70b Internet Tablet will have a 7 inch capacitive touchscreen display with 1024 x 600 pixel resolution to offer crisper visuals. There are no details on whether the tablet will carry a camera or not, but users can always add up to a 32 GB memory card to expand storage.
From the physical specifications point of view, Archos 70b will compete with Kindle Fire, which has slightly less powerful hardware. Both are priced at $200 but might fall short of the amazing hardware offered by Huawei MediaPad, which features a dual-core 1.2 GHz Qualcomm processor and 1280 x 800 pixel display resolution that supports 720p HD video.
With competition gaining momentum in the 7 inch category, perhaps in the coming year consumers may get to see powerful, user friendly and affordable media tablets.
As of now, Archos has not shared details of the release of its tablets in India.