Mobile phone users are spending more time using applications than surfing the internet on their handheld devices, Flurry, a mobile ad company, says in a new study.
At the time when smartphones had just arrived the main activity on these devices was browsing the web. People used to check their email, go to social networking sites and browse webpages on their smartphones.
However, mobile apps have evolved with time and are more handy now than they were before. Many apps, mostly games, allow users offline access as well, which is not possible with a webpage.
Charles Newark-French of Flurry said in a blog post, "It took less than three years for native mobile apps to achieve this level of usage, driven primarily by the popularity of iOS and Android platforms."
The study, which covered smartphone users in the USA, found them spending on average 74 minutes per day browsing the internet and 81 minutes per day on mobile apps. Users are spending about nine per cent more time using mobile apps says the Flurry blog post.
App usage has doubled within just one year (it was 43 minutes per day in 2010,) whereas it grew at a comparatively slower rate, from 64 minutes per day in 2010 to 74 minutes per day in 2011.
"Consumers spend nearly half their app time playing games, and a third in social networking. Combined, these two categories control a whopping 79 per cent of consumers' total app time. Further, as we drill down into the data, consumers use these two categories more frequently, and for longer average session lengths compared to other categories," the study added.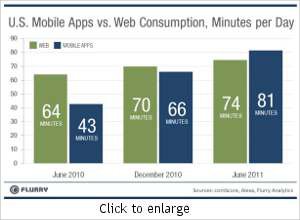 Flurry, which monitors major smartphone platforms such as Android, BlackBerry, iOS, Windows Phone and J2ME, said that 47 per cent time of users' app time goes into playing games; whereas social networking apps consume 32 per cent.
News and entertainment activities were next on the list, but came at a distance, which is surprising since many people seem to spend a lot of their time watching videos on smartphones as well as on their desktops and laptops.
The analysis from Flurry underlines one important point: a strong mobile app ecosystem is extremely important for the success of any device.