A month after announcing their newest macOS Mojave with Dark Mode and new App Store, Apple is now upgrading its MacBook Pro line with the newest 8th generation Intel Core CPUs. The announcement from the Cupertino giant revealed that the latest 2018 editions of the 13-inch and 15-inch MacBook Pro models with TouchBar will provide a boost in performance with several enhancements refined in view of professionals.
The latest 13-inch and 15-inch MacBook Pro will be available in India later this month with starting prices of Rs 1,49,900 and Rs 1,99,900 respectively.
Starting off with the cheaper unit, the MacBook Pro 13 has now been upgraded to feature two additional cores with the inclusion of Intel's Kaby Lake-R processors. Thus the Core i5 and i7 CPUs in the MacBook Pro 13 have four cores instead of two while still retaining support for hyper-threading. Apple says users will be greeted with twice as much performance when compared against the 7th-gen Intel chipsets.
While the Core i7 models clock in at 4.5GHz on Turbo Boost, the Core i5 variant will be able to touch 3.8GHz on Turbo boost with the base clock speed at 2.3GHz. The integrated graphics have been upgraded to Iris Plus 655 which outs 128MB of eDRAM while storage options go up to 2TB on SSD and RAM amounts to 16GB in total.
The MacBook Pro 15, on the other hand, can be specced up to Core i9 processors with the most expensive unit offering six cores with 12 threads which can be Turbo Boost-ed to achieve 4.8GHz on clock from a base frequency of 2.9GHz. Apple is also offering two Core i7 models on the MacBook Pro 15: one with 2.2GHz base frequency (4.1GHz Turbo) and another with 2.6Ghz base clock speed (with 4.3GHz Turbo). The MacBook Pro 15 will thus be able to provide users with 70 percent performance boost than the last generation MacBook.
The MacBook Pro 15 will be able to be configured to up to 4TB of PCIe NVMe SSD and up to 32GB of DDR4-2400 RAM with options to choose from either the AMD Radeon Pro 555X or the Radeon Pro 560X, both offering 4GB of GDDR5 memory.
Along with these upgrades, the 2018 MacBook Pro line is also bringing the latest Apple T2 chipset which was first seen on the new iMac Pro. The newest chip offers enhanced security with encrypted storage options, secure boot and support for triggering Siri through a voice command. The Retina displays now offer what Apple calls a True Tone viewing with a wide colour gamut in P3 and high brightness levels that touch 500 nits at peak.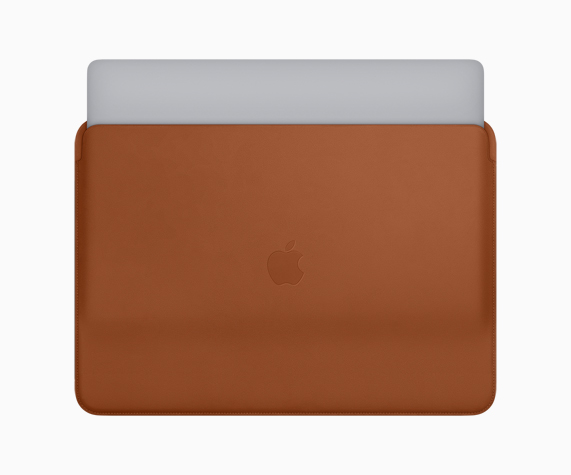 The new MacBook Pro lineup will be able to be bundled with Apple's own leather sleeves which come in Black, Midnight Blue and Saddle Brown with microfibre lining on the inside for protection. These go on sale for $179 (approx. Rs 12,260).