While Apple has been gradually amassing patents which are somehow related to 3D interfaces, a new patent has been granted to it which may have some big possibilities for gaming.
It deals with a projected image area where users would be able to manipulate interface coming out of the mobile device interface in some way. The new patent is something similar to Kinect of Microsoft, which utilises motion sensing for gaming and other applications has already tasted success in the market.
Patently Apple, which reported this, said that the new iPhone system may work by using something like a pico projector to first create an imaging space, and the user movements may be detected by using a scanning beam or a camera or even both of them.
In simple terms, the new system creates an invisible 3D space in front of the smartphone users, and they can work with the holographic image as if it was present there on a real screen. Apart from the obvious mobile gaming uses, it may also be used to create revolutionary new teaching systems for the children who perform exceedingly well with educational tools based on visual aids.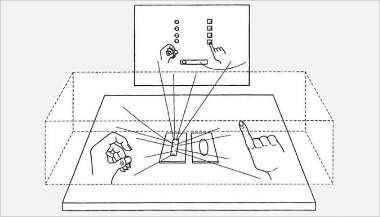 The probable uses may also include virtual keyboard as given in the image, which will be able to detect the hand movement and register appropriate input. The patent credit completely goes to one Apple employee, Christoph Krah, who has been given credit for some earlier holographic Apple patents also.
There seems to be a larger Apple game plan at work here. Brick by brick, the company is getting control of a whole new gesturing system which involves 3D visualisation and is not available anywhere else currently.