Apple has now started shipping iPhone XR phones with 'assembled in India' printed on retail boxes. The news comes just three months after the Cupertino company started assembling the iPhone XR and iPhone XS through Foxconn Technology Group in Chennai.
Wall Street Journal's Newley Purnell has confirmed that the iPhone XR phones available in India now carry the 'assembled in India' tag on the retail boxes. Purnell has also shared screenshots of the boxes and while the phones have been assembled in India, its MRPs remain the same.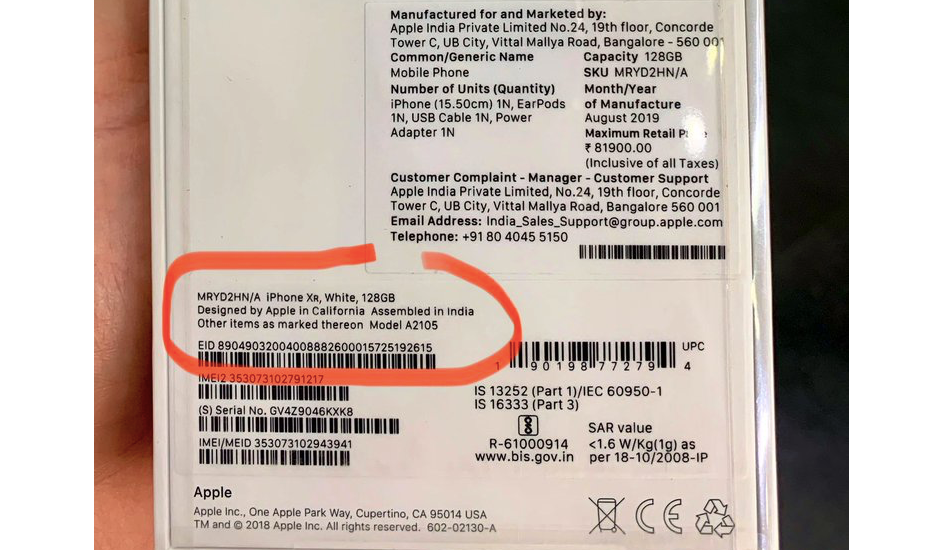 The retail box of the iPhone XR 128GB version shows Rs 81,900 but Apple recently slashed the price of the phone to Rs 54,900 amid competition. The iPhone XR 64GB has also received a price cut and now sells for Rs 49,900 in India.
However, the shift of assembly of the iPhone XR hasn't further affected its pricing. Apple is estimated to save up to 20 percent on import duty but it's unlikely that the iPhones will get another price cut. This is evident from the fact that iPhone SE and iPhone 6s which are also locally manufactured, are selling for the same price that they used to.
Back in August, it was reported that Apple supplier Foxconn put a restriction to its iPhone production line and will only manufacture up to 1 million iPhone units in a calendar year. This meant that the 1 million iPhone units produced by Foxconn will solely be made to sell domestically and not for export. We can thus expect the new iPhone XR 'assembled in India' models to only sell in India, at least for now.
Besides the affordable iPhone XR, Apple is working on a budget iPhone SE 2. The iPhone SE 2 is expected to be available in the first quarter of 2020 for a price of $399 (approx. Rs 28,400). The entry-level iPhone will be powered by an Apple A13 Bionic 7nm chip, 3GB of LPDDR4X RAM and will be available in 64GB and 128GB storage options.