Android's split-screen feature has been present in various devices and largely so due to the inception of Android 7.0 Nougat which gave smartphones a universal take on the multi-window feature. Currently, there are three varying implementations of multi-window mode: split-screen, freeform and Picture-in-Picture mode; the last of which is available only on phones running Android Oreo or later.
However. there are a few limitations to the split-screen mode, the biggest of which is the fact that no two apps can be used simultaneously. This means only one app during multi-window operations will be active at a time while the other app is paused. To keep the opened apps in an active state, users are needed to manually interact between the two apps upon use.
Google is now reportedly working on a solution to this problem as it's expected to introduce a new feature called "multi-resume" in the next version of Android. Android Q will this be able to keep multiple apps open and actively running at the same time. The news comes as an announcement from Google during the latest Android Developers Summit as the Mountain View company said it's looking to allow manufacturers to keep all apps active during multi-window mode.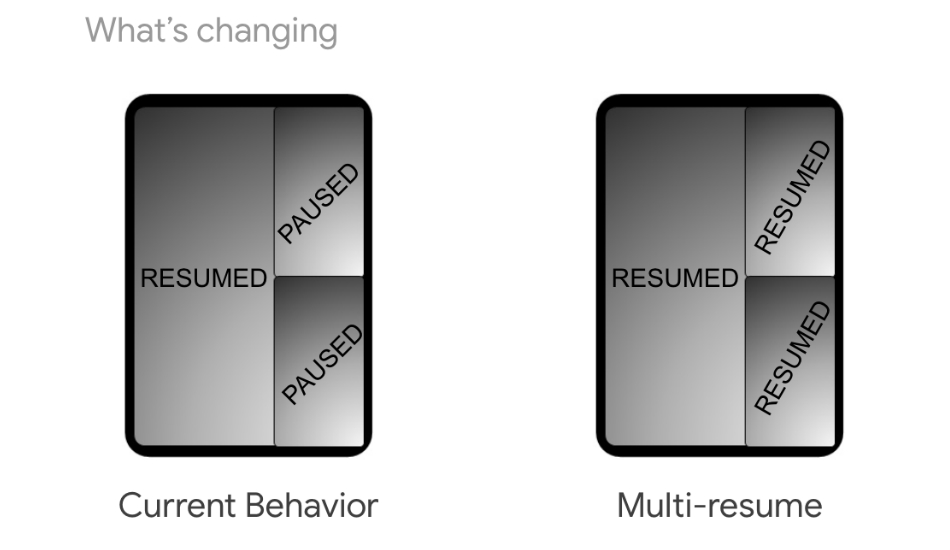 The feature currently up and running on some recent Samsung phones in the form of a "MultiStar" module in Good Lock. This means native support in Android for all smartphones isn't a distant thought. Android Pie has started shipping which means it's likely that the feature will show up only on the next version of Android.
Google will push system-wide support for foldable smartphones in Android Q and with the multi-resume feature, Google expects to find a lot of use for the latter especially when there are two screens involved. In addition to foldable smartphones, the current generation of tall displays will also benefit from multi-window active features to make room for a seamless multitasking experience.