Amazon is all set to launch its App store for the Android devices on March 22, according to reports.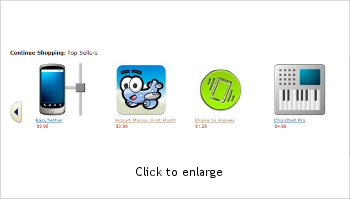 GetJar is one model on which the Amazon app store may operate. In this method, people may go to the website through the browser.
On the website, they would find the app they need. After filling out a form with their phone number, they get a text message with a link, which gets them the app.
Users may also buy the apps through the Amazon website, or get the phones preloaded with the apps if they are bought from the Amazon app store. It may also feature some exclusive add ons, to keep people hooked to its service.
The Amazon app store had made a brief appearance on the Internet once, though it was not fully functional so users could not buy any app there. But it gave a good idea of things to come on the upcoming app store.
Amazon has an advantage over Google, its payment service is spread over more countries compared to Google Checkout.
There are speculations from TechCrunch that Amazon may also come out with an Android based tablet. At this point, however, we can just wait and watch and see how the events unfold.