Amazon has updated the Kindle application for Android devices. This App is one of the best for book lovers, and brings exceptional e book capabilities.
With the latest update, the app graduates to version 3.1.0 which brings a long list of changes that will be much liked by users.
The application gets a new home screen that makes accessing books easier, while devices running Android Honeycomb version 3.0 and above get a whole new layout and reading pane for newspapers as well to take full advantage of the bigger screen. Along with that the home screen will now give access to the Amazon book store and while the users go searching for existing content in their library, they will be recommended books and periodicals based on their reading preferences.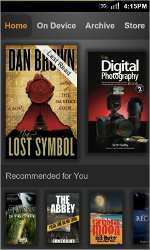 The new Kindle 3.1.0 app also brings some bug fixes aimed at providing more stability to the device and in-app upgrade notifications as well. Improvements from previous upgrades have also been tweaked and bug fixes have been made for improving the shopping experience on Honeycomb tablets.
This update requires an Android OS 2.1+ device and works anywhere Amazon Kindle service is currently available. You can download Amazon Kindle application on your Android device manually or can also visit the Android Market to do so.
You could, alternatively, follow this link.