Airtel will launch its Smartbyte 4G plan in the next 15 days in Kolkata, so that users can increase their plan's fair usage limit.
A company official informed The Mobile Indian that such a plan is in the works and that it will be announced in the next 15 days. He, however, refused to reveal the data and pricing details.
In simple words, FUP (Fair Usage Policy) means that even though a user may have subscribed to an unlimited broadband plan at a particular speed, if his usage is very high and crosses a certain cap as decided by the broadband provider, his connection speed will be reduced for the remaining part of the billing cycle.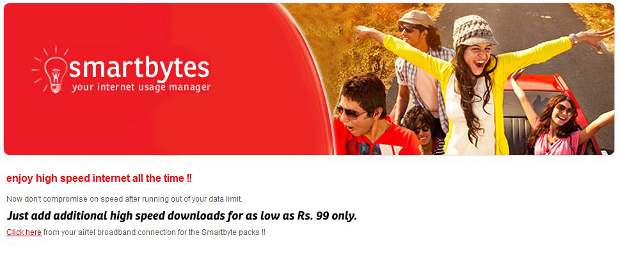 Currently Airtel is offering three unlimited plans for Rs 999, Rs 13,999, and Rs 1,999, at 100 mbps download and 40 mbps upload speeds, with fair usage cap of 6 GB, 9 GB and 18 GB, after which the speed available to users is reduced to 128 kbps.
The Smartbyte plan will allow users to buy additional data so that they can continue browsing without a speed limit (up to 100 mbps).
A similar plan is currently available to Airtel fixed line broadband (DSL) users, Plans start at Rs 99, but the plans for 4G services will be different in terms of pricing and will be announced in the next 10-15 days.