Bharti Airtel has started offering 20 per cent discount for broadband customers opting for yearly plans. Further, the company is also giving 15 per cent discount to its customers who have opted for 6 months plan.
The new offer is valid in all cities where Airtel has its operations. However, the plan is only valid for 6 months and yearly plans. Under this offer, users opting for Rs 1099 for six months will get choose for Rs 933, while if you opt for the plan for one year, you will get for Rs 875. This makes a total amount of Rs 10,500 for one year and Rs 5600 for six months.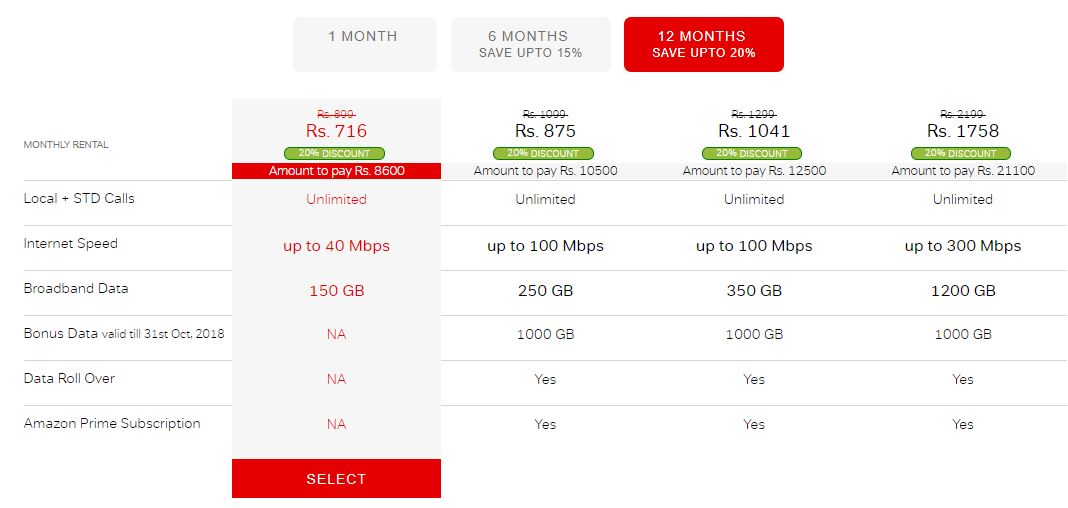 The plan comes with 100 Mbps download speed and it offers 350GB of data. Users will also get 1000GB extra data, which is valid till October 31, 2018, and it also comes with Amazon Prime subscription and data rollover facility.
Similarly, Rs 899 will be available for a Rs 716 for one year and Rs 766 for six months. The pack offers up to 40Mbps speed and 150GB of monthly data. Next in the line is Rs 1,299 plan. The pack is available at a discounted price of Rs 1041 for one year and Rs 1,100 for six months. The plans offer similar benefits as the Rs 1099 and it comes with 350GB of data per month.
Lastly, Rs 2,199 plan now available at a discounted price of Rs 1,866 for six months and Rs 1758 for one year. The pack offers 1200GB of data with up to 300Mbps speed along with 1000Gb of bonus data. The plan also comes with data rollover facility and free subscription of Amazon Prime.