Airtel has managed to top the charts in terms of offering the best video consumption experience and high download speeds in the latest mobile network experience report by OpenSignal. In the same report, it has been declared that Jio has managed to attain a 97.8 percent score for the availability of 4G networks across the country while Vodafone was ranked the highest in terms of offering the best voice app experience.
In the latest mobile network report, OpenSignal has found that Reliance Jio has a 4G availability score of 97.8 percent, meaning on average, users were connected to Jio's 4G services 97.8 percent of the time. While Jio tops the charts, Airtel managed to achieve 3.6 percent more to come second at 89.2 percent. The newly merged Vodafone and Idea both remained at the 77 percent landmark.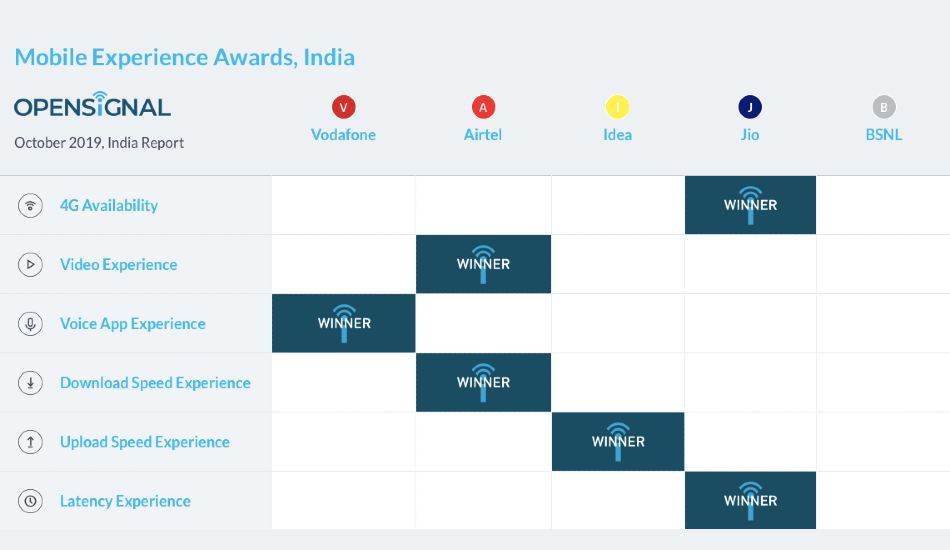 Availability aside, it was Airtel which managed to offer the highest overall download speed with a score of 9.6 Mbps. While Vodafone and Idea came second and third with 7.9 and 7.6 Mbps speeds respectively, Jio offered the worst download speed experience among the top 4G providers with a score of 6.7 Mbps. This translates that even with the highest 4G availability, Jio couldn't offer good download speeds.
It was not just download speeds Airtel topped at, but also the mobile video consumption. The report details that Airtel managed to offer 53 points with an increase of 8.6 points when consuming media over the internet. Vodafone, Idea and Jio came second, third and fourth respectively with scores of 48.2, 47.1 and 46.3 out of 100. BSNL had the worst score out of the five operators with 31.9 points which is probably due to lack of 4G networks.
Opensignal has also introduced a new metric — Voice App Experience for accessing the quality of voice communication operators manage to achieve across mobile apps like WhatsApp, Facebook Messenger and Skype. In a close contest, Vodafone gained 72.6 points, the highest among all five Indian operators, by still ending up under the poor quality category in global analysis. Idea, Airtel and Jio were also put in the same bracket, with scores of 72.3, 72.0 and 70.9 points respectively. BSNL was the only operator to land a Very Poor rating, with a score of 61.6 points. Vodafone and Idea were the only operators to earn an Acceptable rating (75-80) in 4G Voice Experience measurements.
While Airtel offered the highest download speed score, Idea toppled the rest by getting a score of 3.2 Mbps in the Upload Speed Experience. This was followed by Vodafone and Airtel which achieved 3.1Mbps and 2.4Mbps while Jio only barely got pass the 2Mbps mark.
Reliance Jio received the best Latency Experience award for maintaining a network response time of 54.2 milliseconds. Airtel missed the first place by a difference of 3ms, while Vodafone and Idea were further behind with scores of 64.2 and 74.5ms respectively. BSNL had the slowest Latency Experience of 80.6ms.