Aircel takes a bold step towards lowering the cost of the service for consumers. The telecom company has announced its new Pocket Internet Smart set of 3G data plans.
Aimed at the feature phones and smartphone users, Aircel's new Pocket Internet Smart plans promise to offer consistent 3.6 Mbps (megabits per second) speed across all package offerings. Of course, those speeds are before the user hits the Fair Usage Policy (FUP) limit.



New Pocket Internet Smart plans start at Rs 7 that is valid for a day and offers 50 MB worth data transfer on both 3G and 2G networks. Till the first 50 MB the user is promised 3.6 Mbps consistent speed but once that limit is hit, the speed drops to 128 kbps (kilobits per second).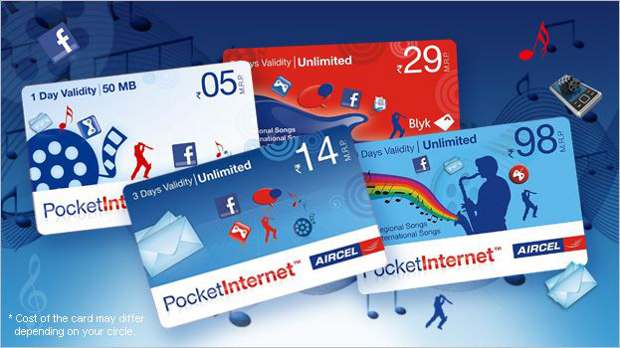 Similar users can enjoy 100 MB of data for 3 days; 200MB for 7 days; and 250 MD for 15 days at 3.6 Mbps speed by paying Rs 18, Rs 37 and Rs 65 respectively. but once the data limit assigned is hit, users can use the internet at a reduced speed of 128 kbps.



Interestingly, the Pocket Internet Smart offers different price packages with 30 days validity and all come with assigned high speed data limit. For example, if you choose Rs 198 package, then the validity is 30 and you can browse up to 1 GB worth data at 3.6 Mbps and after that the speed drops to 128 Kbps.
Aircel has also said in a statement that the USB data modem plans start from as low as Rs 198 onwards for a month. Also there are two special packs for users that wish for higher data usage – Rs 697 per month for 5 GB limit and Rs 997 per month for 10 GB limit. Both these packs offer 3G network speed of 7.2 Mbps. One can use the Aircel SIM card with any of the compatible USB data modems available in market from manufacturers such as Micromax, Huawei, ZTE, etc.
To inform the users about their data usage, Aircel will send out SMS before the connection speed drops to 128 Kbps. For certain circles, the cost of plans might change a bit.