Projectile games are extremely simple in concept, but are very powerful in the way they grip people.
Angry Birds is a projectile motion based game that is extremely popular &#151 users want more once they get a feel for the game. The maker of Angry Birds, Rovio, has done well to bring in novel elements into the game but those who want extra levels of excitement can check out the following projectile games on Android:.
Medieval Castle Defense
Medieval Castle Defense is one game that really challenges the way mobile gamers think. The game itself is easy to learn at the basic level so that users don't lose interest in the beginning. As the levels proceed it becomes more and more difficult and forces players to rework their strategy and positioning of towers. Medieval Castle Defense has been developed by a Korean gaming company.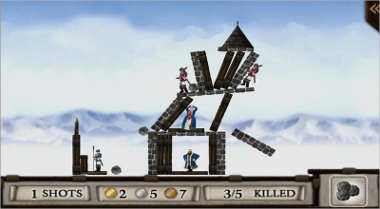 Crush the Castle
Created by Namco, the Android version of the game Crush the Castle is as good as its iPhone version. In the game users are given a good dose of strategy, action and puzzle and they are required to launch missiles at chess like figures to knock them down.
Gamers are given several castle puzzles and once they solve them they get gold, silver or bronze medals. The medal gets better if you take less turns to complete the level. To load the game and launch the catapult, you just need to tap their touchscreen, the first tap shows up the catapult and the second launches the projectile at the castle.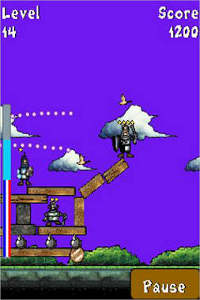 Monty Python's Cow Tossing
This game is based on the story of King Arthur who once came across a French stronghold while he was seeking the Holy Grail. During the confrontation, the French launched a cow over the wall over Arthur and his men, and this is what mobile gamers do in the cow tossing game.
The game does have some serious drawbacks. It takes a long time to load and the physics of the game is not dependable either; it is quite difficult to take aim and there are moments when the frame rate of the game gets too low.
Over all, this is a copy of Angry Birds, and it also uses birds as throwing objects at times despite calling itself Cow Tossing.