At an event in Mumbai, Acer has expanded its gaming range with the launch of the new Nitro, Helios and Triton series of gaming laptops and accessories in India. The latest list of Acer products to hit the market include the Nitro 5, Nitro 7, Predator Helios 300, Predator Helios 700, Predator Triton 500, Predator Triton 900, AOPEN Monitor, Nitro VG0 and Nitro VG1 monitors. The new gaming laptops have been launched in India, with prices starting from Rs 59,999 all the way up to Rs 4,49,999.
The Predator Triton 900 gaming notebook comes with a metal chassis with CNC-machined Ezel Aero Hinge. It has a 17.3-inch 4K IPS display, NVIDIA GeForce RTX 2080 GPU, 9th Gen Intel Core i9 processor, two 512GB PCIe NVMe SSDs and up to 32GB DDR4 memory. It comes with per-key RGB backlighting, macro keys, and a switchable trackpad/Numpad, inside a 23.75 mm thin form factor.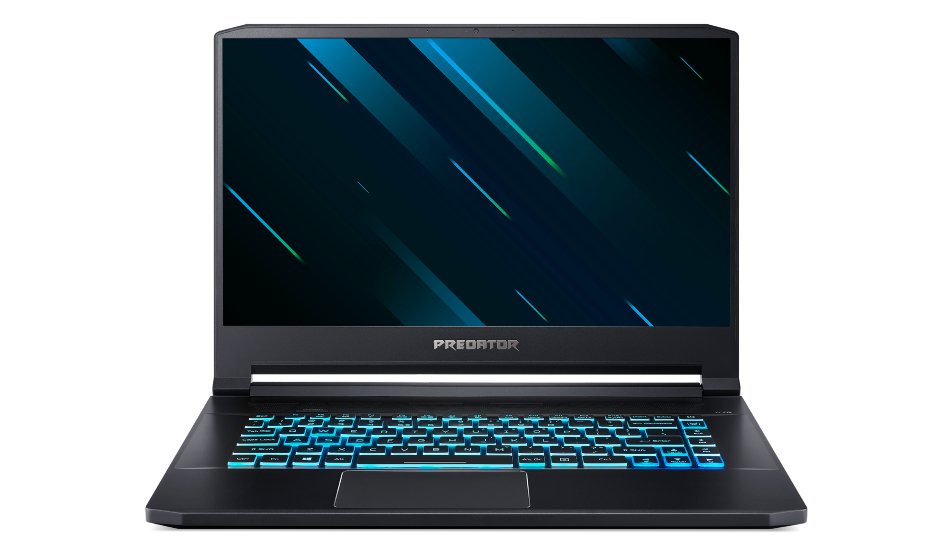 Predator Triton 500 features a 15.6-inch Full HD screen with 81 percent body-to-screen ratio, an 8-hour battery, 300 nits brightness and 144Hz refresh rate. The machine can be configured with NVIDIA GeForce RTX 2080 GPU, 8th Gen Intel Core i7CPU, up to 32GB DDR4 memory and NVMe PCIe RAID 0 SSDs.
The Predator Helios 300 comes in 15-inch and 17-inch FHD displays. The panel comes with a 144Hz refresh rate and 3m response time. It is powered by 9th Gen Intel Core i7 CPUs, NVIDIA GeForce RTX 2070 GPU, up to 32GB of DDR4 2666MHz memory and up to two PCIe NVMe SSDs in RAID 0 plus a hard drive.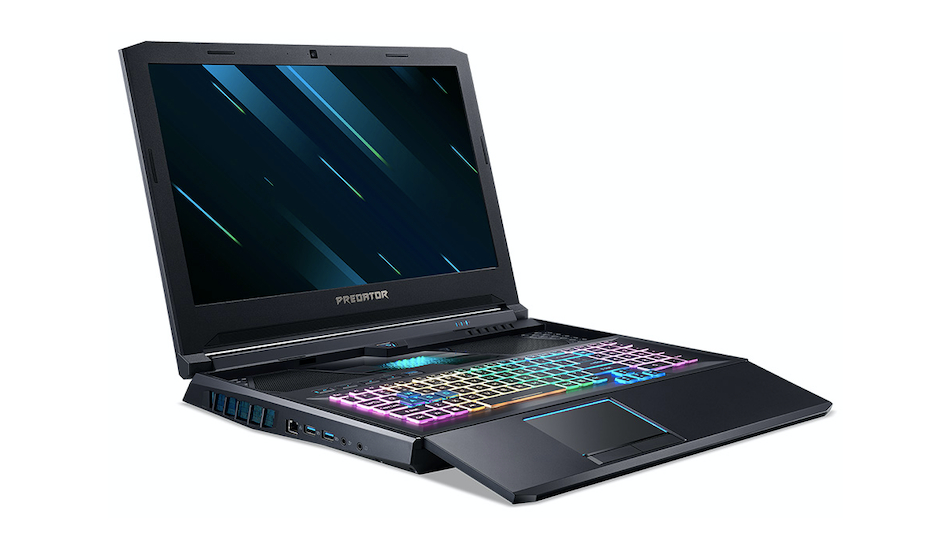 Helios 700 notebook offers a 17-inch 144Hz FHD IPS display with 3ms response time and NVIDIA G-SYNC. The laptop is powered by 9th Gen Intel Core i9 processor, NVIDIA GeForce RTX 2080 or 2070 GPU, up to 64GB of DDR4 memory, Wi-Fi 6 AX 1650 and E3000 adaptors.
The new Nitro 7 gaming notebook comes with a 15.6-inch display with 144Hz refresh rate, 78 percent screen-to-body ratio and a 3ms response time. The laptop is powered by Intel CPU, NVIDIA GPUs, SSDs and up to 32GB of DDR4 RAM.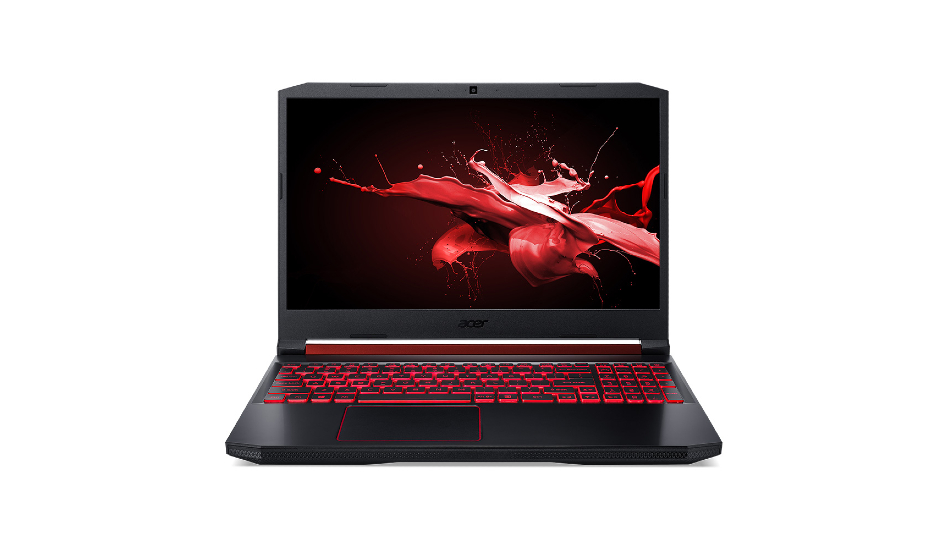 Its younger sibling, the Nitro 5 is available in 17.3-inch and 15.6-inch displays with an 80 percent screen-to-body ratio. The device is powered by a 9th Gen Intel Core processor, the latest NVIDIA GeForce GTX graphics, two M.2 Gen 3 x4 PCIe SSDs using NVMe technology in RAID 0 and up to 32GB of DDR4 RAM. It offers Gigabit Wi-Fi 5, 2×2 MU-MIMO technology, HDMI 2.0 and USB Type-C 3.2 Gen 1 ports for connectivity.
Besides the new gaming laptops, Acer is offering the AOPEN HC1-32-inch Gaming Monitor with a curved 1800R display, 4ms response time, 144 Hz refresh rate and AMD Radeon FreeSync technology. Acer is also offering a plug-and-play Personal Streaming PC with Full HD streaming, 8th Gen Intel Core i7/i5 processor, up to 32GB of DDR4 RAM, 256GB SSD and an integrated capture card.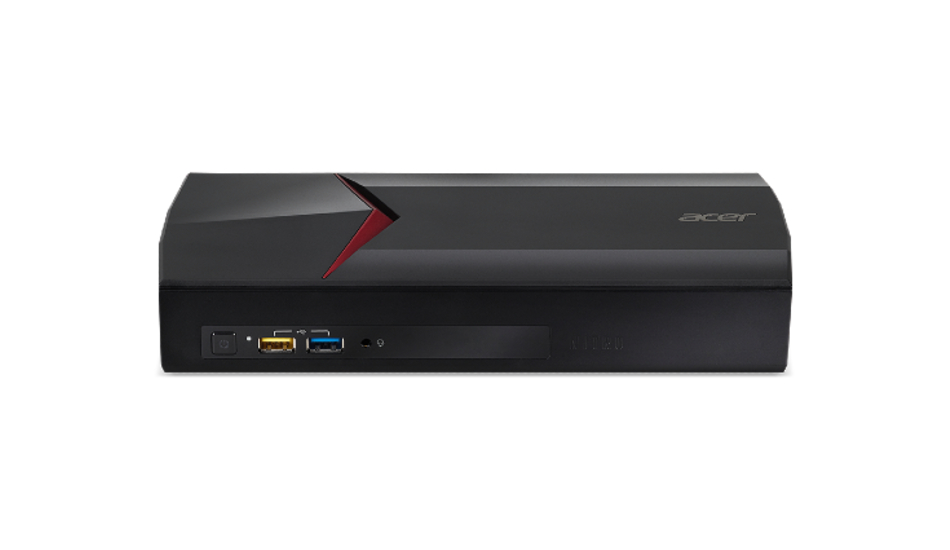 There's a Nitro VG240Y IPS Gaming Monitor which provides a 1080p Full HD Display, 144HZ refresh rate, 1ms visual response time, Radeon FreeSync, Visual Response Boost (VRB) and Acer Ultra-Low Blue Light technology.
Lastly, the Nitro VG271U IPS Gaming Monitor offers a 2560×1440 WQHD display with 144HZ refresh rate and 95 percent of DCI-P3 wide colour space. The monitor comes with VisionCare technology, Flickerless, BlueLightShield, Comfyview and low dimming technologies.
Speaking about the launch, Acer India President and MD, Harish Kohli said "Keeping up with the growing demand for gaming PC's in India, Acer has always gone the extra mile to ensure that our gaming machines offer the right design and power for the best gaming experience. We are excited to introduce our latest lineup of gaming devices for Indian gaming enthusiasts. The new range is built with an emphasis on strong performance, responsiveness and intelligent design. The innovation and features will please the most discerning gaming aficionados".
Acer India CMO, Chandrahas Panigrahi also commented saying "We are delighted to introduce an array of gaming machines and accessories. The consumer today has discerning taste and gamers, in particular, are a knowledgeable lot and know exactly what they want. With this launch, we have our gamers covered in every possible segment. Our new machines are fast, powerful and come loaded with features that are bound to excite the gamers and take their gaming experience to a whole new level".
Acer's latest Predator Triton series will be available for a starting price of Rs 1,65,999. The Helios 300 15, Helios 300 17 and Helios 700 will start from Rs 99,999, Rs 1,14,999 and Rs 2,49,999 respectively. Acer's new Nitro 7 and Nitro 5 laptops will be available for starting prices of Rs 84,999 and Rs 59,999 respectively. Prices of Acer's new accessories will start from Rs 7,999 while the Nitro Stream will be released in mid-September.