The Germany-based automobile brand, Mercedes-Benz will unveil its X 350d 4MATIC pick-up truck at the 2018 Geneva Auto Show, starting March 8. The first-ever Nissan Navara based truck was revealed last year in July. At a price tag of Euro 53,360 ( approximately Rs 54 lakh), the new X-Class is expected to hit the European market in the third quarter.
It is powered by a 3.0-litre turbocharged diesel V6 engine, and mated a 7-speed automatic transmission, sending power to a permanent all-wheel-drive system. The machine generates maximum power of 254 bhp at 3400 rpm and 550 Nm peak torque at 1400-3200 rpm. The company claims to deliver 0-100km/h in 7.9 seconds with a top speed of 205 km/h.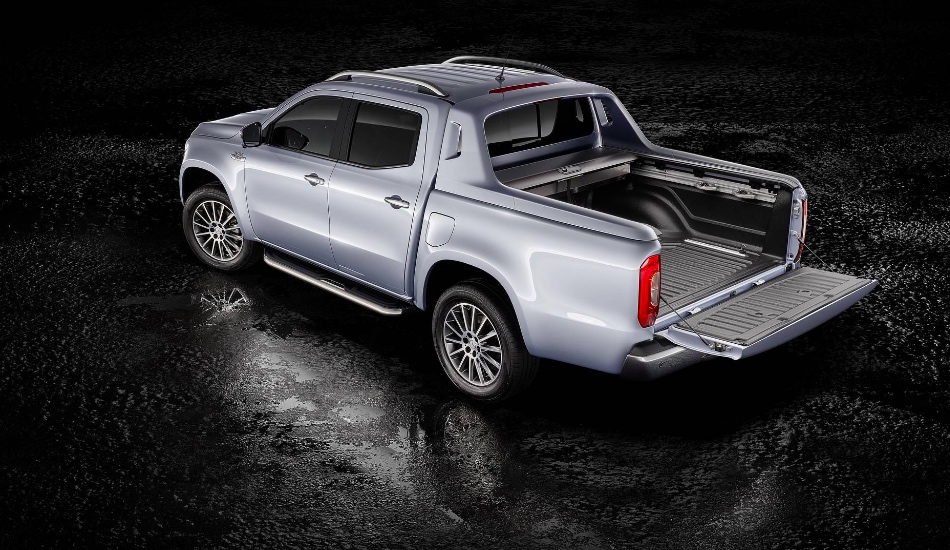 The 4MATIC system allows the X350d four-wheel drive with five Dynamic Select driver modes – Comfort, ECO, Sport, Manual and Off-Road. Further, the company has increased the width to 600mm and for tough terrains ground clearance to 222mm, with a 29-degree approach for the front bumper and 24-degree departure angle for the rear bumper.
The X350 d come in two variants: Progressive and Power. The former comes with the 17-inch 6-spoke light alloy wheels, air vents in electroplated silver chrome, leather-lined steering wheel and an 8-speaker infotainment system. While, the later comes with the 18-inch 6-spoke alloy, LED high-performance headlamps, chrome-plated rear and front bumper and electrically adjustable seats.