Apple recently introduced a new iTunes WiFi Sync feature with iOS 5.0 software update and iTunes 10.5 version. With this new feature, you can sync your entire music collection, contacts, books, notes, documents, applications and any other content wirelessly between your iPhone, iPod Touch or iPad and your computer.
The iTunes WiFi Sync feature is available only for the devices running iOS 5 &#151 iPhone 3GS, iPhone 4, iPhone 4S, iPod Touch fourth generation, iPad and iPad 2. One limitation of iTunes WiFi Sync is that it works only when the iOS device is charging, which means it won't work if you're walking around with the device.
For using iTunes WiFi Sync, certain requirements need to be met. First, get the latest version of iTunes 10.5 from Apple's website. Connect your iPhone, iPod Touch or iPad to the computer to download and install iOS 5.0 update just in case you are running an older version of the iOS software.
To sync iOS device with your computer both devices should be on the same wireless network.
Step 1
Connect your iOS 5.0 running device to the computer and open iTunes. When the device shows up, click on the device's name under the Devices column on the left.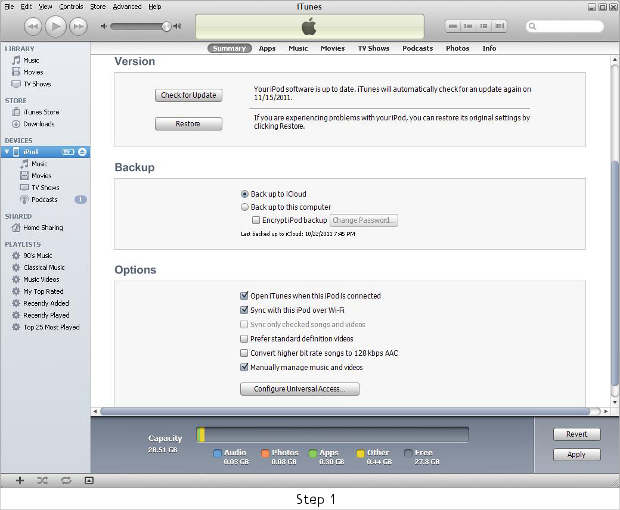 Step 2
Check the "Sync With this iPod Over Wi-Fi" setting located in the Options box and then click on the Apply button.
Step 3
When your iOS device is plugged to a power source, open the Settings app. Navigate in General tab and go to iTunes WiFi Sync option.
Step 4
Choose the computer you wish to sync your iOS device with and then let the wireless sync take place between the device and the computer.
You can sync all your data between your computer and iOS device while it is being charged by a power source.