Are you excited about trying out the new Google Search Lab previewed at Google I/O? Here's how you can be among the first to play with it as Google has opened a waitlist where you can sign up and get early access to this innovative feature.
What to Expect from Google Search Lab?
But before that, let's discuss what to expect from Google Search Lab. When you perform a search, the new Google search experience will present an AI-generated answer prominently above the search results listings. To ensure transparency, Google clearly labels this answer as "Generative AI is experimental." Following the label, you'll find a response tailored to your query.
The answer is displayed within a boxed section, and Google cites the websites it used to generate the answer. You can click on these websites to explore further information. Alternatively, you can ask additional questions or click the toggle button at the top right corner to dive deeper into the topic.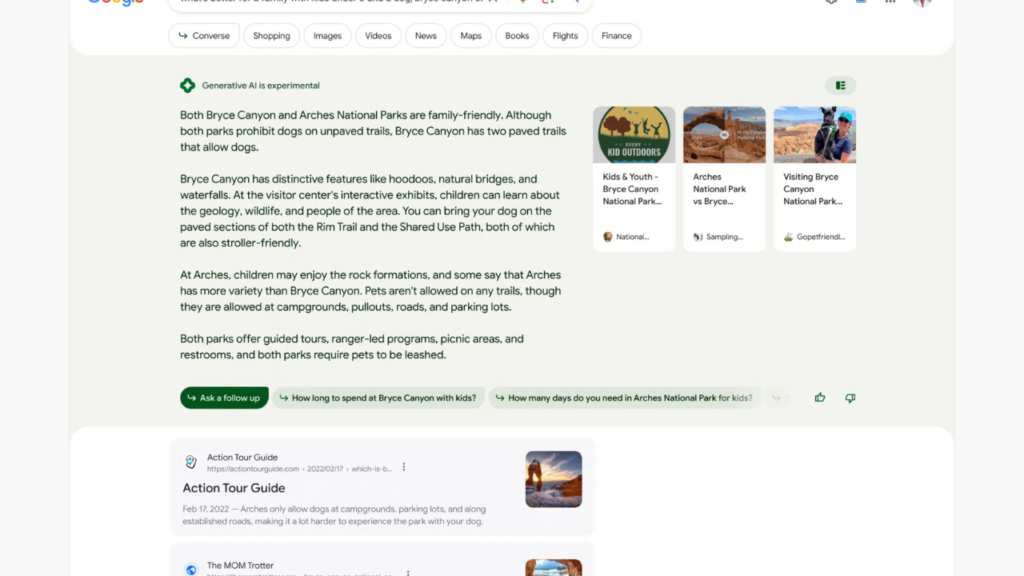 According to Google, you'll be presented with an AI-powered snapshot of key information to consider, accompanied by links that allow you to delve into the subject more comprehensively.
If you want to explore even more detailed responses, you can click the expand button or toggle to reveal additional responses from the generative AI. This gives you access to a wider range of information and insights.
With the new Google Search Generative Experience, Google aims to provide users with quick and informative snapshots while offering the option to delve deeper into topics of interest. Get ready to engage with this cutting-edge search experience and discover a new way of accessing and exploring information!
Read More:
Google Rolling Out Update To Fix Pixel 6, Pixel 7 Series Battery Drain Problem
What is DragGAN AI? Will it Let Users Manipulate Images?
Is Google Bard a Google Assistant replacement?
How to Sign Up?
Now let's discuss how to sign up for Google Search Lab. Well to sign up for the Waitlist, head over to the Google Search Labs website at labs.google.com/search. Once there, you can join the "Experiment with Search Labs" by following the instructions.
The interface includes a GIF showcasing the Experiment with Search Labs interface, where you can sign up for the new Google Search Generative Experience, along with the exciting new features "Code Tips" and "Add To Sheets."
Can everyone join it?
It's important to note that currently, this opportunity is only available to searchers based in the United States and supported in the English language, as announced by Google. Additionally, Google Workspace users cannot participate at this time, so make sure to sign up using your personal Gmail account.
When Will Waitlist be approved?
Google plans to roll out the new Google Search Generative Experience gradually, inviting users in batches over the coming weeks. While the public release is not yet available, those who sign up for the Waitlist will be among the first to receive invitations to try out this new Google Search experience.
Google is eager to receive valuable feedback from early users, which will help them improve and enhance this new feature. So, by joining the early release, you can shape the future of Google Search.