Compared to the last decade, today we have different smartphones with diverse designs and some common basic features. At times we load our smartphones with multiple applications, customisations and data so that it stops performing as fast as it used to. Often we find that applications perform sluggishly and even crash. The option left is to take a backup of important data and then format the smartphone.
Restoring the smartphone to Factory Settings is the best option to solve the problem of sluggish performance and constantly crashing applications. Factory Settings means restoring the smartphone to as it was started for the first time after removing from the box. However, do note that the Factory Data Reset wipes out every piece of information and data on your smartphone. So it is advised to take a backup of the SMS, Contacts, and Multimedia before performing a factory data reset.
Thankfully in Android smartphones, there are no secret codes to be entered for performing a Factory Data Reset. There are just three simple steps you need to follow:
Step 1
Open the Settings App on your Android smartphone.
Step 2
Go to the Privacy option on your Samsung, LG or almost any other Android OS smartphone to scroll down to the Factory Data Reset option. HTC branded Android smartphones have Factory Data Reset settings under the SD and Phone Storage options under Settings App.
Step 3
Tap on the Factory Data Reset option and let the phone do the rest.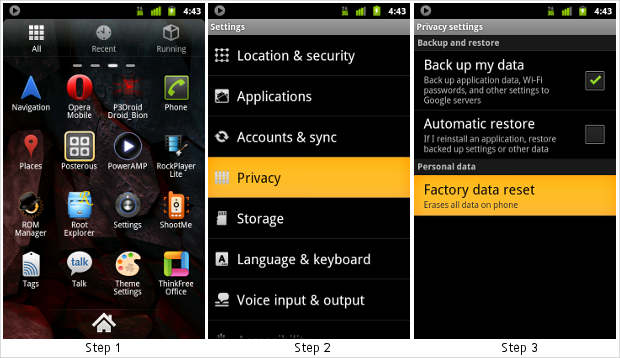 Once this is done your phone will be restored to factory settings, which means it will be like it was new.