Photo Collages certainly provide a unique way to express and cherish memories. With majority of Android smartphones coming with 5 megapixel or 8 megapixel camera, one would have several photos captured already. How about creating a collage of those photos and putting up on a mug or your photo albums online?
Firstly, no need to search for any software or web application when you can do it right on your Android smartphone. There are several apps that offer adding different visual effects to the photos on your smartphone but only selected out of them offer creating a collage.
With this guide, we intend to demonstrate how easy it is to create a collage using your smartphone instead of spending hours over a computer learning complex image editing software.
Step 1
Download the Pho.to Lab App from Android Market, and when installed, open it.
Step 2
Scroll through the categories and select any of the available collage effects: celebrity collages, multiple photo collages or shape collages.
Step 3
After choosing the respective collage category, the app presents different effects that you wish to give to your collage. Tap on any one of those effects.
Step 4
Now add images to the effect by either clicking new ones or choosing directly from your Android smartphone's gallery. Once images are added, tap on the process button at the bottom of the app interface.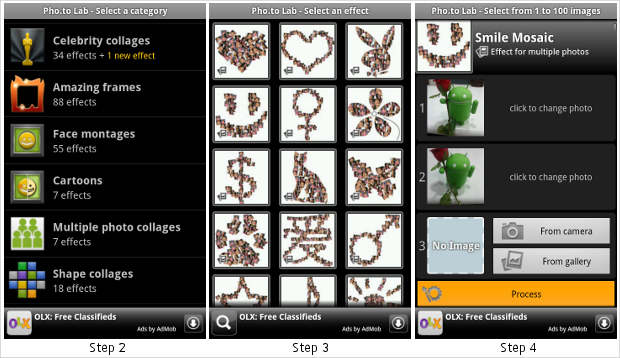 Step 5
Crop and/or rotate the photos you have added to the effect. Tap on process button again to choose the final image.
You can share the image over social networks, or save it to gallery. You can also try out the PhotoGrid app to create simple and quick photo collages as suggested by Nicole Cozma.