Last month, Indian Railways teamed up with travel company MakeMyTrip to enhance its information services to provide the live status of trains as well as PNR status of booked tickets. Not just that, users will also be able to receive updates on train timings cancellation status and the platform your train might be in, all through simple texts on WhatsApp. The move comes as a way to lighten the traffic of calls to 139 where users generally dial to ask for train status.
So how exactly does this work? To get started, need we remind you that you'll need to have an active WhatsApp account on your smartphone. If that's out of our way, let's get started.
Step 1:
Since WhatsApp doesn't allow sending texts to unsaved numbers, you'll first need to save 7349389104 as this is MakeMyTrip's official number to interact through WhatsApp. Either go to the 'Contacts' app on your phone and add '7349389104' to save it or do the same by clicking on the "New message" bubble on WhatsApp which will take you to a screen containing a 'New Contact' option.
Step 2:
Open WhatsApp. Wait till the app refreshes to show MakeMyTrip on your WhatsApp contacts. You can check by clicking on the search button and searching for the name you saved the aforementioned number with. Open the MakeMyTrip chat thread once the contact loads up on WhatsApp.
Step 3: Live Train Status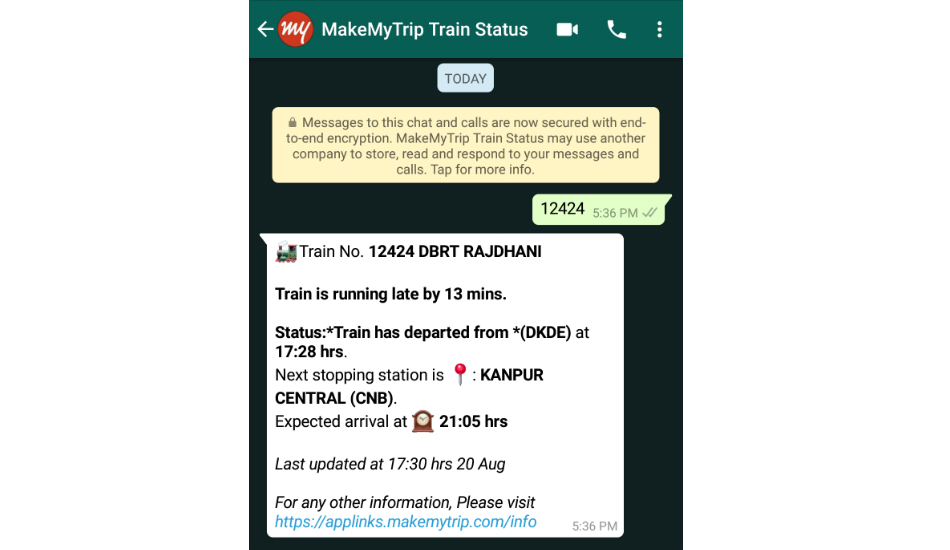 Enter the train number of the train you want to get real-time information of. For example, when we entered the number '12424' on the chat thread, we received a response that included the train's running time, departure from the last stop, time to reach the next stop and the expected time of arrival. On a normal day, you'll get a response within a few seconds of your message being sent.
Step 4: PNR Status
Similarly, users can send a message to the MakeMyTrip number with the following format – PNR status for . This will result in a response that states whether your ticket is confirmed or not, train number, name, source and destination.
MakeMyTrip will additionally show relevant information about your bookings and also send you vouchers, refunds, cancellation status and check-in for flights through the same number. All of this is quite handy considering how fast these responses are in contrast to the waiting time involved while dialling 139 and asking for information when sending a WhatsApp text takes barely a couple of seconds. Users should note that commands they send won't get to the server until two blue ticks are visible on the thread, after which it's only a matter of seconds till you get the information you sought for.