We see a bunch of new launches in the TV segment during this time every year and with budget TVs ticked out, this week we have picked some of the best options if you are considering a budget of around Rs 40,000. The prices might fluctuate over time so these options are strictly based on prices up at the time of writing this story.
Samsung 32-inch Full HD LED – Rs 34,998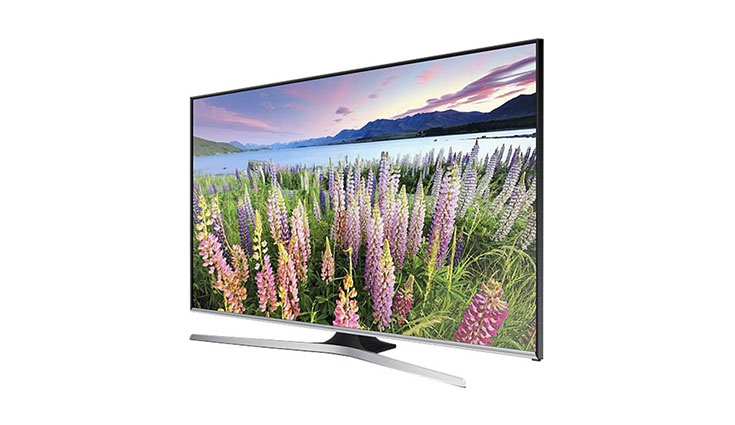 Kicking off today's list with Samsung's 32K5570 which certainly will not blow your mind when you line up its features but is surely one of the quality options you will find in this price range. Starting with the display, this TV sports a 32-inch (80cm) Full HD (1920 x 1080 pixels) LED panel with very minimal bezels on all four sides. The design is, perhaps, the best part of this Smart LED TV. The refresh rate here is 100 Hz and to complement that display, Samsung has loaded in a couple speakers which are capable of a 20W RMS output. For the connectivity, we have 3 HDMI ports, 2 USB ports, a headphone jack and all the other necessary ports. Most of them are located at the back of the TV.
Since this one is a Smart TV, we get our usual dose of applications such as YouTube, Facebook etc. with Tizen OS along with built-in Wi-Fi. Convenience features like Plug and Play, Screen Mirroring are also available here with the help of Samsung Smart View App. For the dimensions, this TV will take up 917.6 mm x 55.1 mm on your wall. Lastly, you get 1 year of domestic Samsung warranty.
Vu 43-inch 4K LED – Rs 33,000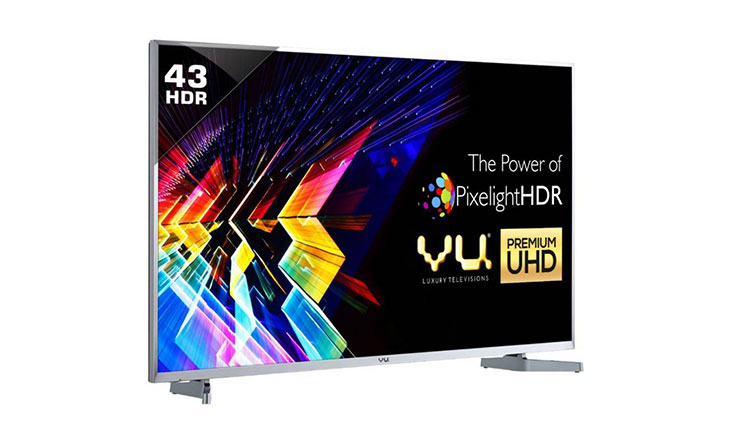 If you want a true value for money, nothing beats Vu 43S6575 Smart LED TV in this segment. The TV is currently priced around Rs 33,000 and comes with a tonne of features. Supporting some really classy aesthetics is a 43-inch Ultra HD (4K) 3840 x 2160 pixels LED display which is probably best of the lot for this price range. This display can notch brightness up to 460 nits and comes with 178 degree easy viewing angles. The refresh rate here is 60 Hz. Just like the Samsung counterpart, this TV also houses a couple of speakers with Dolby Digital technology blowing a sound output of 14 W RAMS. In terms of connectivity, we get 4 HDMI ports (2 Left, 2 Back), 3 USB ports which are located on the side, a headphone jack and all the regular set of ports found on a standard TV.
Being a Smart TV, this TV comes pre-loaded with a bunch of apps such as Youtube, Netflix, Yupp TV, Facebook, AccuWeather, icflix, Viaway, Plex, Dailymotion, Game Center, TED etc. Further, we also get some unique features like Time Shift, Personal Video Recorder, Power Off if No Signal, Program Lock etc. Features like Sleep Timer, Child Lock is also part of this package. With no accessory mounted to it, this TV measures at 966 mm x 565 mm x 79 mm and weighs at 10.1 Kgs. Talking about accessories, we do get a wall mount bracket and a tabletop stand inside the retail packaging. Vu is giving away 1 year of domestic manufacturer warranty.
Sony Bravia 32-inch Full HD – Rs 33,891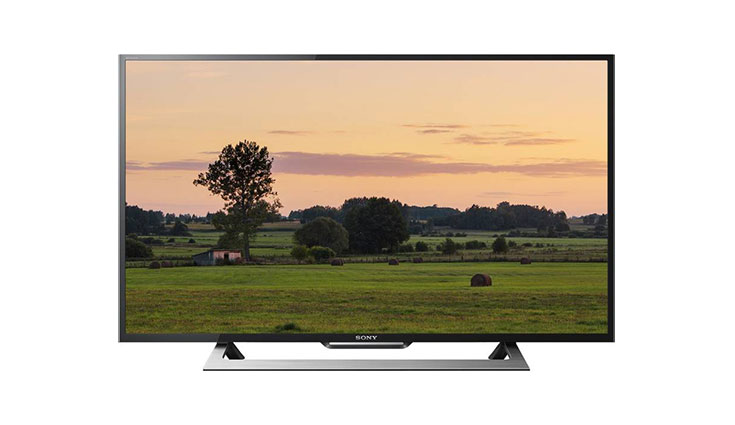 Companies like Samsung, Sony and LG have been pioneers in TV segment so naturally, we do compromise a bit on the features here as well. However, the quality is again top of the board. Sony Bravia series has always been critiqued favorite and, perhaps, the best option under Rs 40K is Sony's KLV-32W562D which is priced at 34,000 mark both at offline as well as online stores. Similar to what we saw with Samsung, this TV comes with a 32-inch Full HD 1920 x 1080 pixels LED display which is wrapped around by some extremely thin bezels making this one of the most premium looking TVs in this price range. The display is powered by Sony's X-Reality Pro engine with an impressive 200 Hz refresh rate. Moreover, Sony has also not ignored the Audio in this mode. We get 2 speakers and 1 subwoofer with Dolby Digital Plus technology offering an audio output of 16 W RMS.
For the connectivity, 2 USB ports, 2 HDMI ports, 1 headphone jack, 1 Audio In/out, 1 RF Input port etc. Yes, this is also a Smart TV so we do get features like Screen Mirroring, Multi-format USB Play and regular apps like Web browser, YouTube, Facebook etc which runs on built-in Wi-Fi functionality. For the dimensions, this TV measures at 738 mm x 441 mm x 65 mm and weighs just 6.4 Kgs. Inside the box, we do get a Table Top Stand which does add it to the aesthetics. Just like it is with any other TV, we get 1 year Sony domestic warranty with this model.
Panasonic 43-inch Full HD LED – Rs 33,998 – 39,999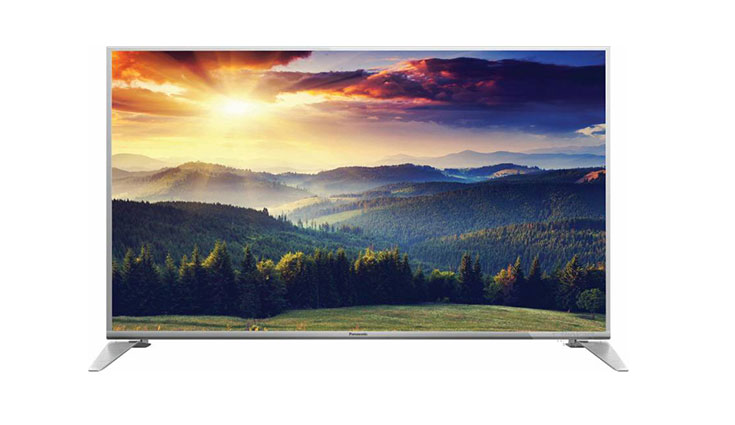 When it comes to TV, Panasonic is another strong name which has been holding up pretty well recently. The company has been regularly upgrading its TV lineup, and last year's Panasonic TH-43DS630D has made up to out today's list. Although not the best display resolution, this TV is up there with Vu's counterpart with 43-inch Full HD LED panel at the front. The design here is not to be taken inferior to the likes of Sony and Samsung. Further, we get 400 Hz of refresh rate which is probably the best in this list and DLED display technology from Panasonic further makes it really pleasing to the eyes. In the Audio department, we get 2 speakers capable of an output of 20 W RMS along with a built-in Home Theatre mode.
Connectivity options are ample here as we get 3 HDMI ports, 2 USB ports, 1 headphone jack, Built-in Wi-Fi and other necessary connectivity options. And yes, this is a Smart TV too so we do add in features like Swipe and Share, Screen Mirroring, access to various Apps, Double USB sharing etc. For the dimensions, this TV will take up about 994 mm x 569 mm x 80 mm on your wall without any stand which, by the way, does come inside the box. The warranty here is again 1 year domestic Panasonic protection.
LG 43-inch Full HD LED Smart TV – Rs 36,999
Another brand which has been gaining a lot of popularity with its Wallpaper OLED TV recently is LG. Although we will no b discussing the wallpaper today, LG does offer some decent options under Rs 40,000 as well. One of them is LG's 43LH576T which priced at Rs 36,999. The TV comes with a 43-inch Full HD panel with relatively thicker bezels than others in this list but it doesn't really take away any design points from it. The Triple XD Engine powering the display kind of makes it up for, in our opinion. We get 2 speakers on this one with Dolby Digital Decoder and a bunch of Sound Modes to make it a comfortable viewing experience no matter what type of content you are watching. In the connectivity department, there a couple of HDMI ports, 1 USB ports, 1 headphone jack, 1 RGB port, 1 RF Input and other essential connectivity ports.
With Smart TV functionality comes features like Miracast, Smart Phone Remote Control, access to its own App Store where you can get apps like Netflix, YouTube, Facebook etc. Besides, this TV is also one of the few out there who will definitely be easy on your electricity bills. The TV measures 975.5 mm x 583 mm x 81.5 mm and weighs 8.4 Kgs and comes with a Table Top stand inside the box. Also, we get 1 year LG domestic warranty in this one as well.