As the technology has evolved a new range rather a totally segment in mobile phones has been created which is known as 'touch and type'. These phones offer dual input options for the users so that they can choose between what and how they want to handle their device and navigate on them. Touch screens are generally preferred for their free and easy to use navigation while physical keypads add a lot of comfort for the users.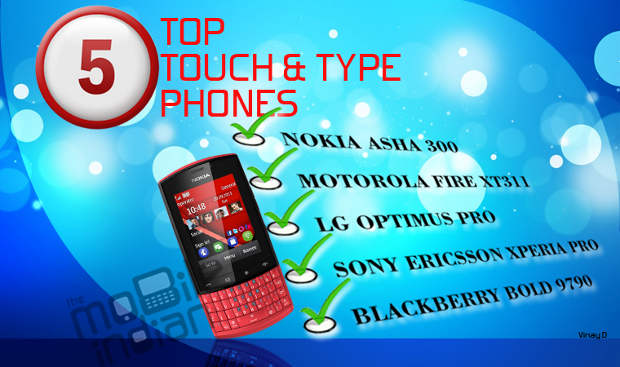 Nokia Asha 300 (Price Rs 6,750)
The new Nokia Asha 300, which is based on S40 operating system, comes with touch and type based input and a speedy 1 GHz processor. The Nokia Asha 300 features a 2.4 inch touchscreen with a 240 x 360 pixel resolution and an alphanumeric multi-tap keypad. A 1 GHz processor gives it enough power to handle most tasks with ease without freezing or any hiccups. The Phone comes WiFi connectivity and is also is 3G ready.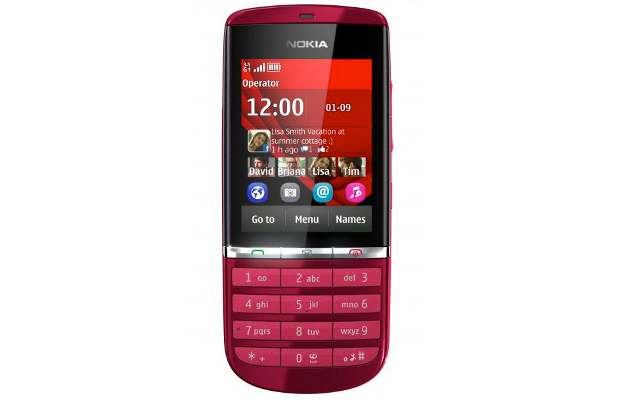 The Nokia Asha 300 has a 5-megapixel camera with video recording capability. It features music player, FM radio with recording and a video player supporting various mobile video formats as well. It comes with Bluetooth for wireless connectivity. The memory of the Asha 300 can be expanded up to 32 GB.
The sleek Nokia Asha 300 measures 112.8mm x 49.5mm x 12.7mm and weighs just 85 grams. It offers a talk time of 6.9 hours and 22 days standby time with an 1110 mAh lithium ion battery.
The Asha 300 comes preloaded with Angry Birds Lite and offers fast access to messaging, email and instant messaging though a wide array of S40 based applications available through Nokia app store.
###PAGE###

Motorola Fire XT311 (Price Rs 8,000)
Motorola Fire XT311 is a budget phone with a fairly large 2.8 inch capacitive touch screen and a Qwerty keypad making it a perfect tool for heavy text users. The phone features four Android capacitive buttons on the screen, and below that is a well laid out Qwerty keypad that offers decent tactile feedback.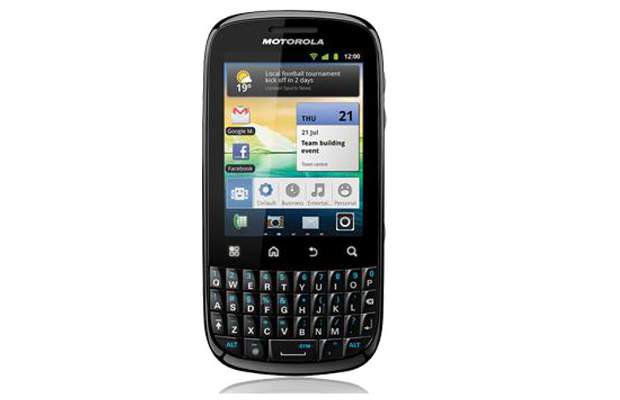 The phone is based on Android 2.3.4, and has a 600 MHz Qualcomm MSM7227-1 chipset, coupled with 256 MB RAM which gives decent performance for most tasks. The combination of the two (processor and RAM) is not enough for multitasking but otherwise it is enough for normal calling, light games, or other tasks.
There is a 3.2 mega pixel fixed focus camera at the back without Flash which does an ordinary job when it comes to photos, and records videos with a 480p resolution at 24 frames per second. For budget phone this is decent enough. There is no front camera either.
The battery is a 1420 mAh unit which offers one and half day of judicious usage with few hours of music, calls, running apps, WiFi, SMS and e mail.
You can read a full review of the Motorola XT311 here

LG Optimus Pro (Price Rs 9,200)
LG Optimus Pro c660 has a bar design with a 2.8 inch screen and a Qwerty keypad below. The design is not exciting with black plastic all around, but it is practical with well laid out keypad with useful shortcuts for mail and calendar.
Pro C660 runs on Gingerbread (Android 2.3), coupled with an 800 MHz processor. It has 3G (at a limiting speed of 3.6 Mbps), WiFi with hotspot capabilities, and standard Android features like GPS. The device uses Bluetooth v3.0, which is fast.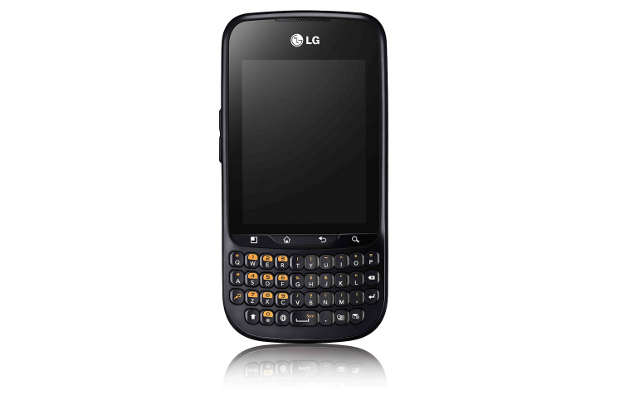 The phone has 1540 mAH battery which gives it better than average backup and talk time compared to other Android phones – more than one and half day with medium usage. The supplied earphone is of decent quality and so is the music listening experience. It has speaker of the phone is also good for such a budget phone.
There is a 3.15 megapixel camera at the back but none in front. The memory on this phone can be expanded to 32 GB with a micro SD card and it also has 150 MB of internal storage. The 1500 mAh battery is good for more than a day of medium use. The best part of this phone is its price of Rs 10,000.
You can read a full review of the LG Optimus Pro C660 here.
###PAGE###

Sony Ericsson Xperia Pro (Price Rs 26,000)
Aimed at heavy text users and social media fanatics, the Sony Ericsson Xperia Pro brings along a bigger 3.7 inch display along with a slide out Qwerty keypad that is comfortable to the maximum. The designing of this device has been done keeping in mind the ease of use and the slide out Qwerty keypad is surely one to be praised for it.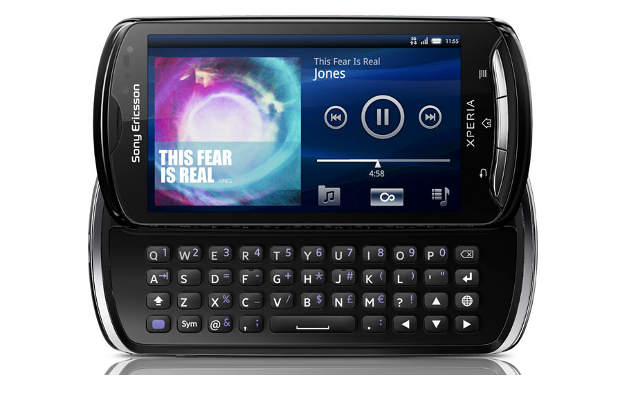 Sony Ericsson Xperia Pro is an Android smartphone with 1 GHz Qualcomm Snapdragon system on chip. It has a 3.7 inch LED back-lit capacitive touchscreen. The display is powered by the Sony Bravia engine that powers most Sony LCD and LED televisions for superior imaging.
Xperia Pro's 8 megapixel camera is capable of recording 720p high definition videos has been included in this and it also has a 32 GB expandable memory slot.

Blackberry Bold 9790 (Price Rs 28,000)
Touch and type functionality was announced by BlackBerry last year and since that time it has been quite popular amongst users. The Bold 9790 offers the same touch and type functionality as the Bold 9900 and the latest BlackBerry 7.0 operating system. The build quality of the device is top notch and the body, which has a plasticky feel, is sturdy enough to survive most rigorous and careless usage.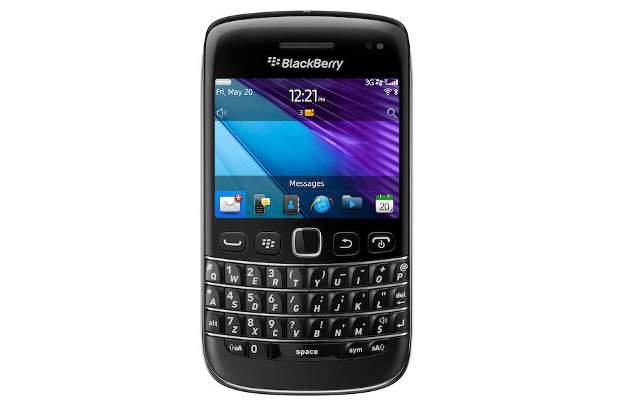 Its 2.45 inch display has 480 x 360 pixel resolution which is great for most tasks and gaming as well. The colour reproduction is quite vibrant and contrast is just perfect, allowing users to read mails while in the bright outdoors as well. Apart from the full Qwerty keypad, the Bold also features capacitive touch.
The device is powered by BlackBerry's newest, and the faster operating system – BlackBerry 7 OS, and runs on a 1 GHz single core processor coupled with 768 MB of RAM memory. The application's load times have certainly dropped while the response of the device has also improved a lot as well.
Bold 9790 also has a 5 megapixel camera with flash, which is a big leap over the 2 megapixel camera featured on older BlackBerry Bold devices, improving image quality dramatically while the auto focus works flawlessly. For low light photography the device features a dedicated LED flash, which is good for close ups but not for wide-angle pictures. One major let down of this device is on the video front that it can record videos in VGA mode only.
You can read a full review of the BlackBerry Bold 9790 here.