Tablets have ceased to be a high end product. Our pick of five of the best tablets this week spans the sub-Rs 10,000 to 30,000 plus range.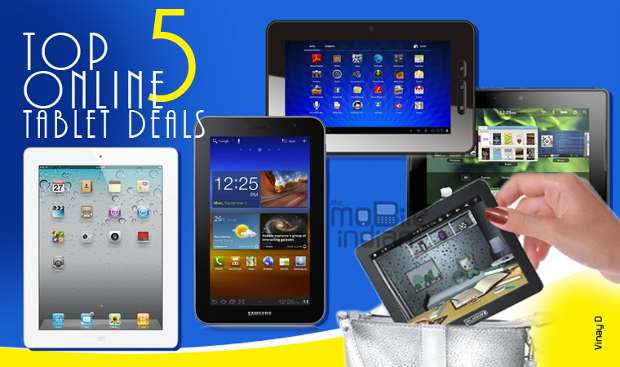 Apple iPad 2, 16 GB, 3G + WiFi (Rs 30,999)
iPad 2 is one of the best selling tablets in the world. It features a 9.7 inch LED-backlit, IPS display. iPad 2 comes with iOS 4 operating system, which is upgradable to iOS 5.1. This version of the OS is pre loaded on the iPad 4G.
iPad 2 features an A5 dual core 1 GHz Cortex A9 processor that makes the device much faster than the older iPad.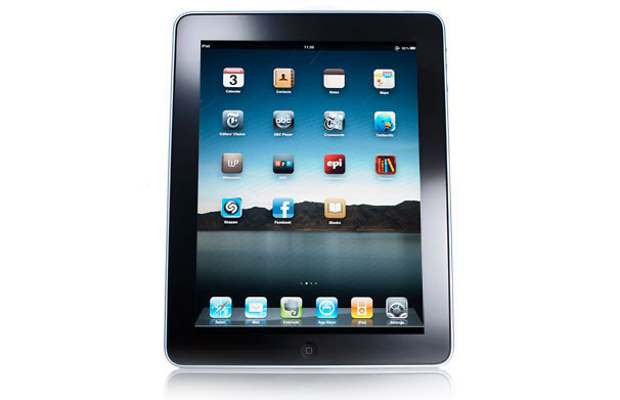 The iPad 2 also features two cameras, one front facing VGA camera for using FaceTime video chat, and a rear camera that is capable of recording videos and taking images. The device comes with ten hours of battery life for a day of interrupted usage.
This offer is available exclusively on ebay.in, and users can also buy the iPad 2 through EMIs. iPad 2 3G + WiFi is available for Rs 32,999 and above at various online stores.
###PAGE###
BlackBerry PlayBook 64 GB (Rs 17,499)
Initially, BlackBerry PlayBook tablet was criticised for being over priced but now the price of its 64 GB version has come down to Rs 18,000, while the base version with 16 GB memory costs Rs 14,000. As stocks for the 16 GB tablet are over we have included the 64 GB version, which is still available.
PlayBook runs on the QNX operating system and is powered by a Cortex A9 dual core processor with PowerVR SGX540 graphics card and 1 GB RAM. In terms of performance PlayBook is by far the most impressive tablet and the one with the maximum battery life too. BlackBerry PlayBook uses a standard 5300 mAh Li-Po battery.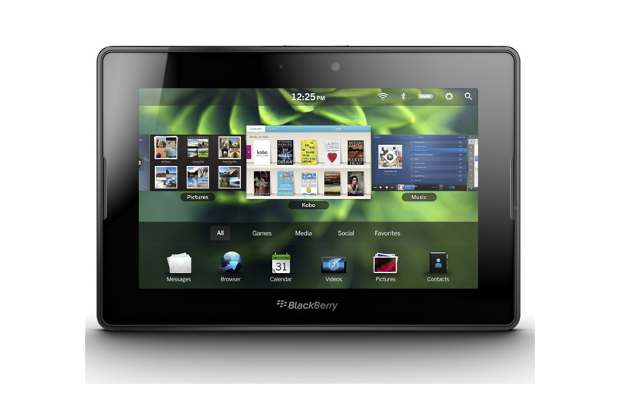 The device sports a 7 inch LCD capacitive touchscreen with 1024 x 600 pixel resolution. The high resolution screen also has four point, multi-touch and gesture support features. There's a 5 megapixel camera at the back of the PlayBook that can record full HD 1080p video in Mpeg format.
PlayBook is available for Rs 17,499 on Letsbuy.com and the seller also bundles a Rainbow scratch guard for the device, which is included in the price. At other online stores the PlayBook 64 GB is available for Rs 18,999.
Samsung Galaxy Tab P1000, WiFi (Rs 22,500)
The Samsung Galaxy Tab P1000 is a 3G tablet that offers some good performance and for the price it is an absolute delight. This Galaxy Tab P1000 has a 7 inch touchscreen (1024 x 600 pixel) display and has almost the same features as other Galaxy Tab products available in the market right now.
It comes with 16 GB onboard memory that is capable of being expanded up to 32 GB with SDHC cards. Housing a dual core 1 GHz ARM Cortex mobile processor, this tablet runs Android 2.2 Froyo OS.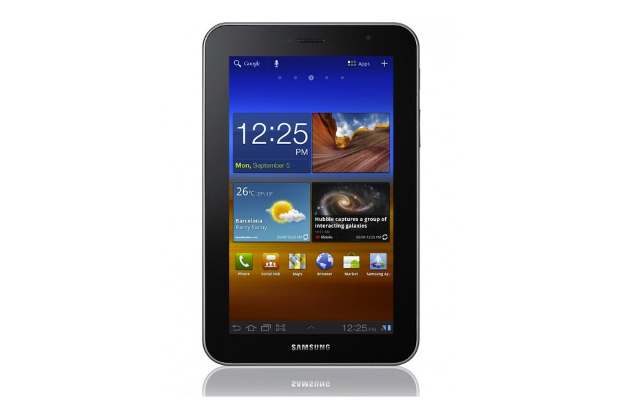 At the rear lies a humble 3.15 megapixel camera that is capable of recording 720p HD video; and in the front there's a 1.3 megapixel camera for video chatting. This tablet features a USB 2.0 port and offers wireless connectivity through WiFi, Bluetooth and DLNA.
It is available for Rs 22,500 exclusively on Letsbuy.com and the seller has also bundled a mono Bluetooth headset from Samsung, which is included in the price. Samsung P1000 is available for Rs 30,000 and above at various online stores.
###PAGE###
Milagrow Tabtop 8 GB (Rs 9,990)
The Tabtop has a 7 inch LED backlit 4:3 resistive touch display, 8 GB of built-in storage expandable to 32 GB via an SD card, WiFi, 3G connectivity via a dongle, USB 2.0, and a 4,000 mAh battery promising more than 8 hours of usage. The tablet is available in four colours-pink, blue, grey and black.
The device comes with Android 2.3 operating system running on Rockchip 2918, a 1.2 GHz processor based on ARM Cortex-A8 architecture, and 512 MB of DDR3 RAM, which makes sure it gives decent or above average performance in all scenarios such as apps, gaming, internet browsing and entertainment too.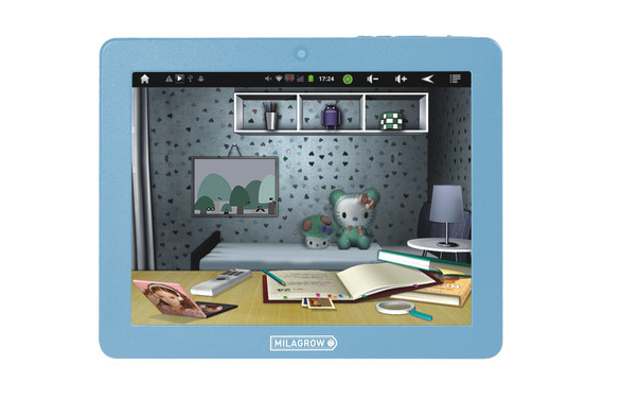 The screen of the Milagrow Tabtop comes with a resolution of 800 x 600 pixel and displays visuals and videos quite easily and accurately. The device has a resistive touchscreen though it still features pinch to zoom functionality.
The Milagrow Tabtop is available for Rs 9,990 exclusively on Flipkart.com and users can pay by cash on delivery or choose the EMI option that the seller is providing. The Milagrow TabTop, which earlier used to cost Rs 13,999, is now available for Rs 10,000 at other stores.
Micromax Funbook 4 GB with MiFi router (Rs 8,990)
The cheapest Android Ice Cream Sandwich tablet from an Indian manufacturer, Micromax Funbook, comes with a 7 inch capacitive touchscreen with 800 x 480 pixel resolution. The capacitive touch of the display is capable of multi touch inputs and thus supports pinch-to-zoom functionality.
It has a Cortex A8 architecture based 1.2 GHz processor and dedicated dual core MALI graphics processor for visual superiority. It features 512 MB of RAM which is necessary for apps to work on ICS; and 4 GB of internal memory, which can be expanded by up to 32 GB through external SDHC cards.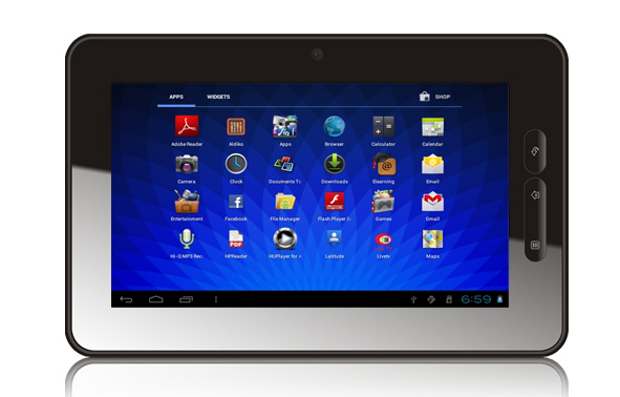 For data connectivity, Funbook has the option of WiFi and 3G connectivity through a USB dongle. Users will also get a Tata Photon data card for free with the tablet with 1GB of free data download for two months as a complimentary offer from the manufacturer. Userswillhowever have to bear an additional charge of Rs 500 to get the connection activated. Also, in this offer a MiFi personal WiFi router is included with the device, and can help users stay connected to up to five different devices.
The Funbook plus MiFi router offer is available for Rs 8,900 on Snapdeal.com and users can pay by cash on delivery or in EMIs.