Music is food for the soul. Likewise, music apps are food for mobile phones. Most smartphones come with a basic music player application. The user is then expected either to purchase songs from an online music store, transfer audio files from a computer, or stream music online over WiFi or 3G/GPRS. It's very difficult to get the same music App for different platforms. Here we have listed some of the most interesting and diverse applications for popular mobile platforms.
Rhapsody
This is a basic subscription based application that will give you access to over 12 million tracks. One can try it free for 14 days and then you have to pay about $10 a month for unlimited access to a large library of songs. You can not only stream but also download tracks from the Rhapsody store.
Users can download their playlists to their phones and downloaded tracks can be accessed without a data connection. Streaming music requires an active internet connection. Rhapsody subscribers often get early access to upcoming album samples as well.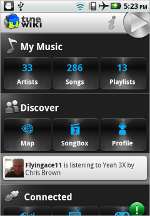 Based on the artists you listen to you, access the different radio stations offering similar music. Then you can simply tap and tune to radio stations to discover new artists as well as songs.
Rhapsody mobile app is available for iOS, Android and BlackBerry platforms.
###PAGE###
TuneWiki
Usually listening to music is a personal experience. How about a music application that tells you about the people who are listening to music using the same app? TuneWiki is one of the most versatile applications, available for most mobile platforms including Symbian, J2ME, Android, iOS, Palm, Bada, and BlackBerry.
Termed the social network for music discovery, the TuneWiki Player allows you to play music files, and stream internet radio and even video along with lyrics. The fun part is that those lyrics can be instantly translated into over 40 languages. TuneWiki offers Top Charts for discovering the most popular songs. Apart from that you can check out the Song Maps to see who's playing which track. Similarly, you can share the details of the track you're listening to over your favourite social network.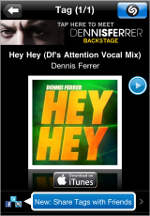 TuneWiki also allows people to listen to song samples before purchasing them right from the handset. It is one of the must-have music apps for your smartphone. Download TuneWiki from your app store or visit this link to download the app for your device's platform.
Shazam
One can get bored of listening to the same songs over and over again. At times it's difficult to recollect a song one has heard at a friend's place or at a restaurant. Use Shazam to tag the music without even using a data connection and then you can submit the sound clip for the app to recognize it later. Then you can either buy it online or obviously get it from the interwebs.
Register on the Shazam service and you can get started on a journey to discover new music tracks. Create your own tag list of songs which you can sort out later or share with your friends. Simultaneously you can browse through your friends' tagged list. Music Previews are also available but only for select countries. You can also access the Shazam Tag Chart where you will find tracks that have been tagged maximum times by the users of the app.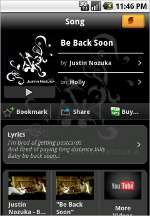 Shazam app is available for iOS, Android, BlackBerry, Symbian, Windows Phone 7 and Windows Mobile platforms. Hunt for Shazam on your mobile's app store or visit the Shazam website to download the application for your handset.
###PAGE###
Sound Hound
Music recognition is a mixture of science and art. Sound Hound app allows users to quickly search for the song that is being played, or a tune that is being hummed. This application is immensely popular based on its sheer potential &#151 play the tune for at least four seconds and it will tell you all the possible details about the track that include artist information and lyrics.
This music identification application links results to YouTube videos and Pandora radio stations for users to check out full tracks they are looking for. It also offers sharing and buying links, provides lyrics, offers charts, artist databases and also music recommendations. This application will indeed blow your mind with its smart recognition engine that identifies songs you hum as well as untagged songs.
Sound Hound is available in both free and paid versions for iOS as well as Android platforms.
Audio Galaxy
Most of the times users have music on their computers and their smartphones usually don't offer loads of storage space to save all tracks. Audio Galaxy is a simple mobile app that allows streaming music from a computer to an Android or iOS device for free.
One can even create a playlist and stream songs that could be in DRM-free formats such as MP3, AAC, ALAC, FLAC, OGG or WMA. There's no gap in playback and you can create or edit playlists on the go.
The best part of this app is that it allows you to stream your music collection over WiFi, 3G and even EDGE from anywhere, provided your computer is on. This app is very easy to use and is a must for music lovers who have a large music collection.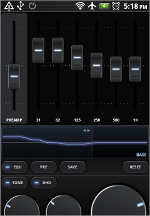 Download the Audio Galaxy app from Apple App Store or Google Android Market.
PowerAmp for Android
Apple may have iTunes player as its music backbone but Android too has a music player. Making the best of the "openness" of Android, PowerAmp does a stupendous job. Besides playing and supporting high quality music, it also offers some advanced controls like sliders to adjust and tune audio quality as per one's taste and hardware. It offers a 10 Band graphical equaliser along with bass and treble knobs.
This app deserves special mention because it goes a step further than other apps by offering desktop-like customisations that enhance the music listening experience. It offers tag editing, visual themes, album art download and several other features.