Smartphones are popular with users not only for their utility, but also because they are very good on the go entertainment devices. Gaming applications especially have upped the popularity of smartphones in recent times. This has also forced manufacturers to develop powerful handsets.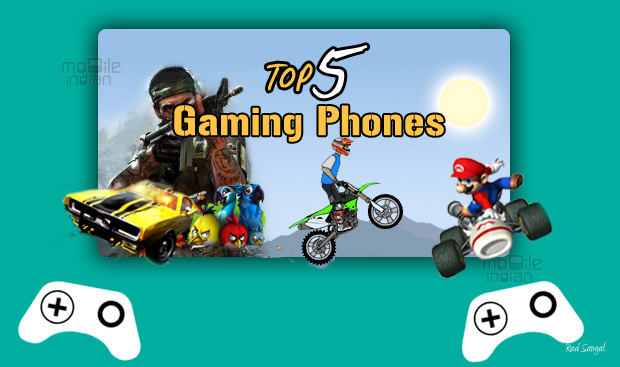 The Mobile Indian had come out with a Top 5 gaming phones list in October last year, but since then many new gaming smartphones have been launched in the market. Here is a list of those handsets and it will help you identify the best device for your needs.
Sony Ericsson Xperia Play (MRP: Rs 21,999)
Sony Ericsson Xperia Play did not immediately become popular after launch despite its extensive gaming capabilities and controls, but it has gradually grown strong in the market.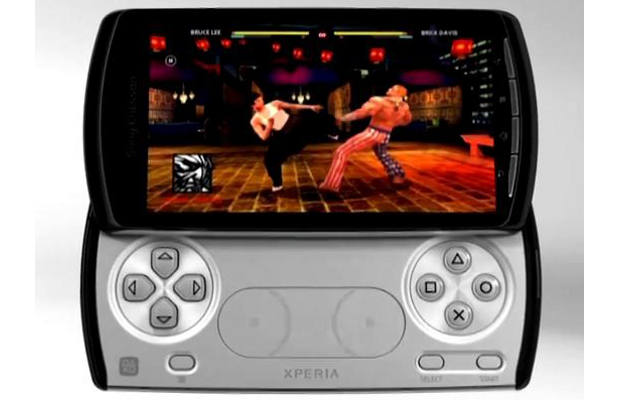 Xperia Play is an officially certified PlayStation device with PSP-like controls including slide out track pads, which are capacitive.
In terms of hardware, Xperia Play features a 1 GHz Qualcomm Snapdragon processor with dedicated Adreno 205 graphics engine, which ensures smoother and faster graphics performance &#151 a must for a gaming device. In total, it has 400 MB of internal storage that doubles up as ROM. Besides, 512 MB of RAM has been added to this device as well to keep the performance speedy and zippy.
Although the device now has a smaller (4 inch) screen as compared to most smartphones, its been compensated by the resolution (480 x 854 pixels) and by colour reproduction. Besides, its stereo sound output perfectly complements the gaming experience.
Xperia Play runs on Google Android that has hundreds of free and paid games. Also, Sony Ericsson continually releases free premium games especially for Xperia Play.
For more content users can use PlayStation suite, a dedicated store for PlayStation certified devices. Now, with the ICS update announced, the new age operating system will soon be making its way for the device and will hopefully bring some new and exciting features with it.
###PAGE###
iPhone 4S (MRP: Rs 44,400)
Although the original iPhone 4 topped many charts across the globe for being the best device across multiple categories, its younger sibling started from where the older generation smartphone left off.
Touted as the fastest iPhone yet, this smartphone is truly a remarkable device from Apple. It is one of the most popular phones worldwide and is undoubtedly among the best gaming phones out there.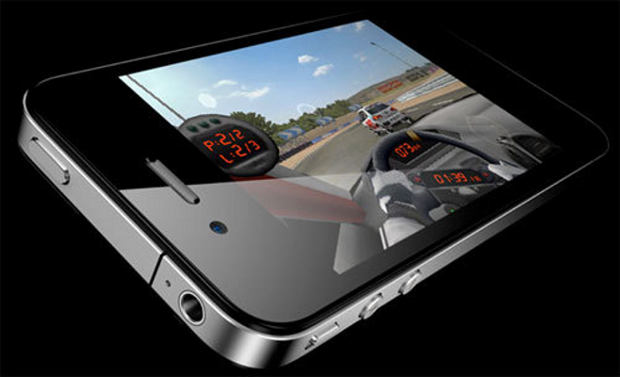 Apple iPhone 4S has a 3.5 inch capacitive touch screen and features a whopping 640 x 960 pixel resolution that makes any game look good. Plus, the capacitive touch of iPhone is also one of the best in the industry and it is supported by the highly touch optimised iOS operating system. Also, the display has been treated with a special oleophobic (oil resistant) coating, which is very useful for the Indian environment.
The iPhone 4s comes with a sleek, sharp and thinner design that makes it look similar to its predecessor, the iPhone 4. Along with this, the upgraded OS 5 and a much faster dual core processor make it easier to edit and share pictures on the iPhone 4S. The device is powered by an Apple A5 chipset that includes a dual core 1GHz processor and a dedicated PowerVR graphics core. Similar to Xperia Play, the iPhone 4 also includes 512 MB of RAM but it comes in 16/32/64 GB versions so users need not worry about storage on this device.
To make gaming more realistic, Apple has added a multi-axis Gyroscope sensor to the iPhone 4S along with an accelerometer for accurate motion sensing that makes first person shooter and role playing games realistic and fun.
Nokia X7-00 (MRP: Rs 20,700)
Nokia has always been the underdog as far as gaming smartphones are concerned. A major disadvantage of a Nokia phone is the lack of applications as compared to those on Android and iOS.
Nokia X7 has clearly overtaken the N8 as far as the gaming legacy goes. Nokia is one of the few device manufacturers that started the gaming culture on mobile phones with its first gaming phone – nGage. And with the X7, it aims at rewriting the story once again.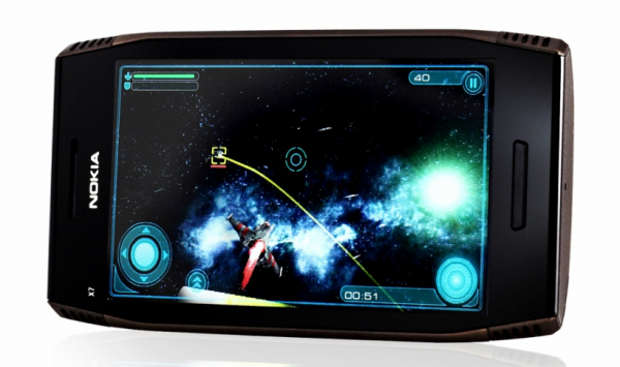 Nokia X7 with its big 4 inch display makes gaming fun, and with its stereo sound output it adds more realism to games. X7, although it has a slower, 680 MHz processor as compared to most other devices in this list, utilises system resources better than others and never lets you feel the difference.
The display of Nokia X7 might not be the best in the industry but it is good enough for some pocket sized gaming. The 4 inch Amoled (active matrix organic LED) display has 640 x 360 pixel resolution which recreates some nice and vibrant visuals for a memorable gaming experience.
Although there are fewer applications available for Symbian devices as compared to Android, on Symbian you would get some exclusive gaming titles that can only be played on Nokia devices. Also, with Symbian Belle soon making its way to Nokia smartphones, we will surely see some more gaming action for the X7.
###PAGE###
Samsung Galaxy Note (MRP: Rs 32,250)
Samsung portrays the Galaxy Note as something between a tablet and a smartphone. It has by far the biggest screen among smartphones.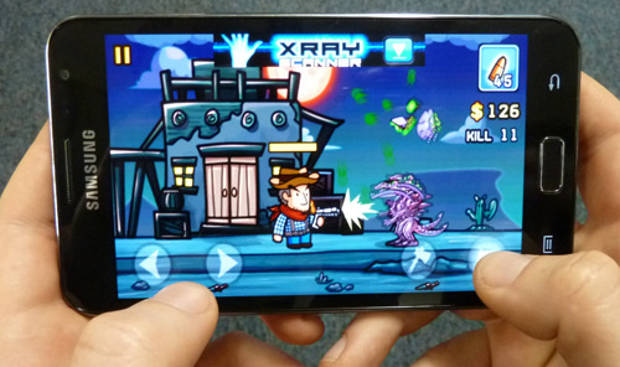 The Galaxy Note has a dual core processor running at 1.4 GHz. The smartphone has a massive 5.3 inch Amoled display with 800 x 1280 pixel resolution, which makes gaming real fun.
The bigger display and better touch response are two things a gamer would dream of and Galaxy Note gives them both. Apart from having the biggest smartphone screen, Galaxy Note is by far the fastest Android smartphone available to Indian customers. This phone is almost 200 MHz faster than Galaxy S2, which makes it very useful for memory intensive tasks like playing games.
Note also features a gyroscope sensor and motion sensing that multiply the gaming experience.
Since it runs on Android, users have access to a lot of games from Android Market. Samsung Galaxy Note also comes with 16 GB of internal memory that takes care of the storage for this device. Moreover, Samsung is also expected to release the Android 4.0 ICS update for Galaxy Note in a couple of weeks, so expect many new features as well.
Micromax A85 Superfone (MRP: Rs 15,200)
Micromax A85 is also called the Superfone by the company. It's the first dual core smartphone from Micromax &#151 two processing cores besides the usual graphics core.
Similar to the LG Optimus 2X, which is the world's first dual core smartphone, Micromax A85 also features an Nvidia Tegra 2 chipset, which is a true dual core processor with dual core Arm A9 processor running at 1 GHz and a graphics core provided by Nvidia Geforce.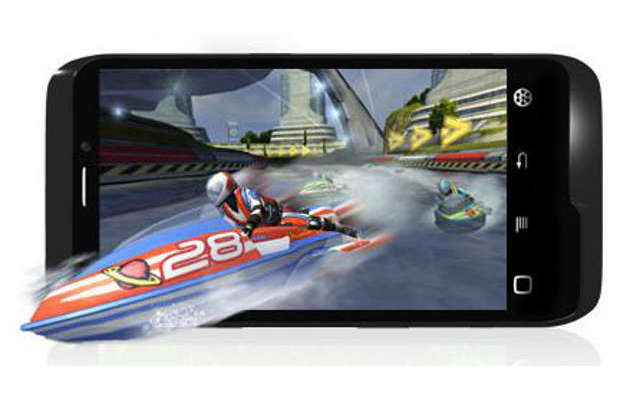 Nvidia has also opened a dedicated store for devices powered with Tegra chipsets and offers exclusive content. Also, since it is an Android device, users will automatically gain access to all the games and applications available from Google Android Market as well.
Micromax A85 also comes with smaller but efficient 8 GB of internal storage and 512 MB of RAM. Although there is no update on the Gingerbread or ICS update we hope for something.