If you have a BlackBerry PlayBook you must know all that the camera at the back can do. It might not be the best snapper in the business, but there's still a lot it's good for. Also, the 7 inch tablet has a great and responsive touchscreen that offers vivid colour production, making it a pleasure to play with pictures.


Here we present the top free apps to enhance photos and surprise friends.
Photo Studio
This is one of the mature BlackBerry Messenger Connected applications that every BlackBerry user must try. Photo Studio offers a neat and translucent user interface that does not take long to get accustomed to. This image editing app is also available for BlackBerry phones. By default, the Photo Studio app comes with a limited number of effects. However, you do get basic photo editing tools such as brightness, contrast, RGB colour adjustment, hue, saturation, and transform – crop, rotate and resize. You can also add frames and different effects to your photos to make them look fancier. Once done, you can share those images on Facebook, Twitter and over BlackBerry Messenger. Unfortunately, there is no Instagram support.


Get the free version of Photo Studio from BlackBerry App World.
###PAGE###
Scrapbook
If you have kids around, then Scrapbook can be a great app to keep them busy. This app lets you make wallpapers, photos and stickers etc. Those who have the PlayBook 2.0 update can even download Scrapbook content packs. There's also a 3D content pack for making new 3D wallpapers.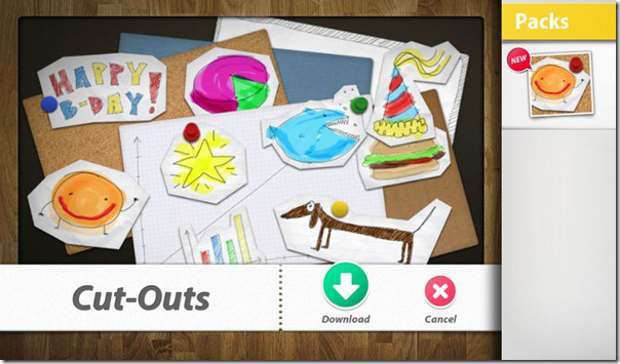 You can create Christmas stickers, travel postcards, and more with the new packs. This is a fun and interactive app. Scrapbook can be downloaded from the BlackBerry App World.
PicShop Lite
PicShop Lite is yet another powerful image editor that can accommodate images of up to 8 megapixel resolution. This is the lite, as in free, version of the PicShop app and comes with full editing tools, filters, effects, frames and overlays. If you like sketching, then you must try out this app for it offers eight different brushes. For internet buffs there is a speech bubble adding tool and also a Meme Maker that helps you create and be part of a popular meme online.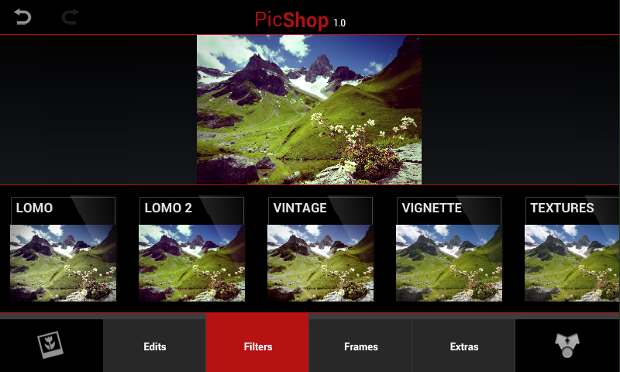 Users can add text and fonts can be modified. The editing features include manipulation of colour, saturation, hue, brightness, and even transformations. Apart from those tools, this app also throws in tilt-shift adjustment, depth of field setting, blemish remover, red eye remover, and auto-correction. Of course, some features will be available only in the paid version of the app. Nonetheless, it also lets you share photos over Facebook and Twitter. Get PicShop Lite from the BlackBerry App World.
###PAGE###
Camera Filter Lite
The name itself hints that this app contains loads of camera filters that can be used to click some jazzy pictures. With the popularity of different camera apps, Camera Filter Lite is also worth keeping for great portrait images and other photos. Since this is a free version, you might have to make do with the app's watermark on the images. The filters include cartoon, color sketch, sketch, color halftone, poster, wave, smudge, sepia, neon, histogram and so on. If you like to experiment with your PlayBook's camera, then do keep this app handy.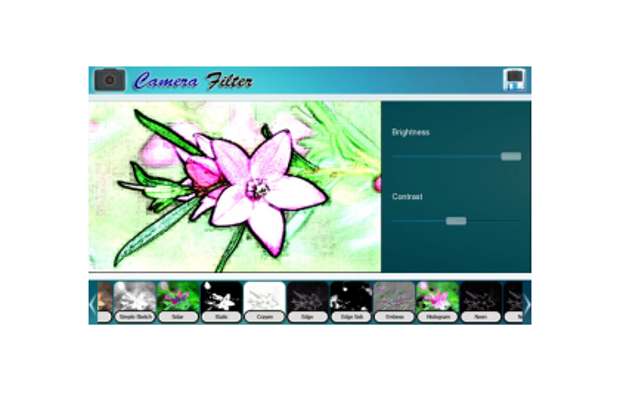 Get the Camera Filter Lite from BlackBerry App World.
Simple Depth of Field Calculator
This app is mostly for amateurs who are stepping into serious photography and want to catch every detail in a shot. There is no need of a keyboard for using this app as it offers sliders to make adjustments to values. It covers all major cameras and camera formats out there in the market. Also, if you want the developer to add a specific model, mail him. The app offers sliders and micro-adjustment buttons for the precise input of values for getting the most accurate depth of field. With this app one can even learn about hyper focal distance, far depth of field and near depth of field.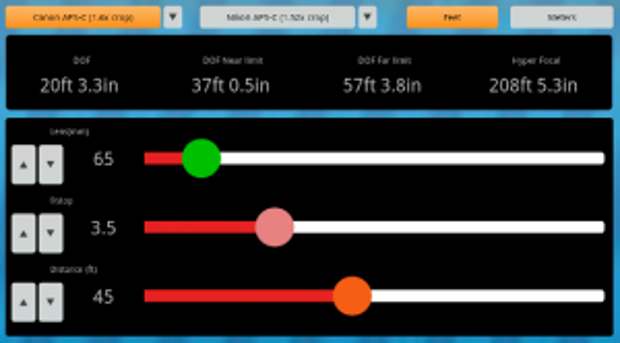 You can keep the camera at the distance that offers the best focus to the subject and eventually results in more pleasing shots. This app saves quite a lot of time for those stepping seriously into photography. Get the Simple Depth of Field Calculator app from BlackBerry App World.