Acer has established itself as a known brand in the gaming laptop segment. The company has a wide range of products under the gaming category that comes loaded with top-of-the-line specs along with some sturdy design. Recently, the brand introduced its entry-level gaming laptop for the Indian market, the Nitro 5, which follows the same tradition.
The laptop is equipped with all the arsenal required for a person who is looking for serious gaming experience coupled with an all-around performance. The laptop is priced quite aggressively making it a value for money proposition. So, without further ado, here is the list of top 5 features of Acer Nitro 5 that makes it a killer laptop at this price point.
Sturdy build quality
Starting with the design first, the Acer Nitro 5 comes with a sturdy design and comes loaded with a host of exciting features. The laptop comes with a brushed finish at the lid coupled with crimson hinge gives a premium look. It is equipped with a backlit keyboard that emits red colour with highlighted WASD keys, making it an eye-catcher. The good part here is one can easily upgrade the hardware as there are small panels at the back through one can add more storage and RAM.
Another area where Acer has done an excellent job is giving a plethora of ports, which makes it easier to connect externals like keyboard, mouse, headphone and external display for an immersive gaming experience. On the left, you get Kensington security lock, USB 3.1 Type-C port, USB Type-A port, a full HDMI 2.0 port and a microSD card reader. On the right, there is a barrel-shaped charging port, two USB 2.0 ports and headphone jack. Overall, the Acer Nitro 5 comes loaded with a host of interesting features and connectivity options for an immersive gaming experience
Top-end specs
In terms of specifications, the entry-level gaming laptop from Acer comes loaded with specs that are ideal for those who want to test the waters of gaming. The laptop is equipped with a 15.6-inch Full HD display with a screen resolution of 1920 x 1080 pixels and 60Hz refresh rate. It is powered by the latest 8th Intel Core i5 8300H CPU, which is clocked at 2.3GHz. The gaming laptop features NVIDIA GeForce GTX 1050 Ti graphics card and an immersive 12GB of RAM backs it. For storage, it is equipped with a 256GB SSD storage along with 1TB of HDD storage. Overall, the Acer Nitro 5 comes with all the specs you require for your initial gaming carrier.
An all-rounder performer
Coming to the performance, the Acer Nitro 5 is a delight for those who want to best of both of worlds. The gaming laptop runs smoothly when you are using it day-to-day tasks and gives an immersive performance when you are using some memory-hungry tasks.
We tried Adobe Premiere Pro for some intense video editing and to our surprise, the laptop handled most of the tasks quite effectively. The cooling system is effective as well and you will not feel uncomfortable while using it for graphic-intense games, although you might need to lower the graphics of some heavy games like PUBG and more for a smoother experience.
Solid keyboard, trackpad and Dolby-powered speakers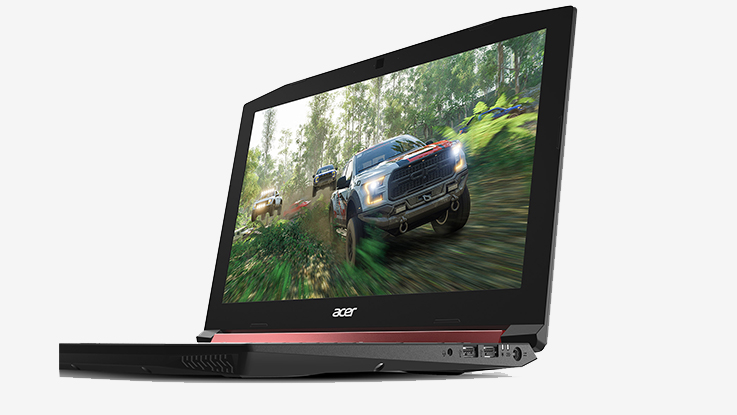 The chicklet keyboard used in Acer Nitro 5 feels solid and snappy. You get a good tactile when you press the keys and it offers some decent travel as well, making it easier for those long typing sessions. The keyboard feels big with a dedicated 10-key numeric keypad. The trackpad also offers some good response. Interestingly, the speakers of the Nitro 5 are surprisingly good for a budget gaming laptop. The speakers deliver some robust sound with some good bass effect and decent highs and mids.
Aggressive price tag
Acer has aggressively priced this laptop making it an ideal choice for the budding gamers. The laptop comes with a price tag of Rs 65,999 for the base variant, which is quite affordable considering the specs and performance it offers. The laptop's use is not restricted for only gaming but it can be used as a daily driver, which is a big Plus for this one.