Despite the struggles associated with keeping up with this fast-paced world and its advancements, technology has its perks. Here we're are about to describe the top five beauty tip applications which help you to maintain your shine, and at the same time deliver your responsibilities on time.
Natural Beauty Tips:
With a rating of Rating of 3.7 stars, given by 1065 users Natural Beauty Tips app is satisfactorily one of the better apps to use. Many people around the world are beauty conscious, and look out for seemingly easy techniques to look young and fresh. One can use natural beauty tips offered here in this app and have a desirable skin. After having great success on iPhone app store, now it is available on Android Market.
One of its users Savsarah has this to say, "I just tried one for teeth with lemon juice and salt. IT WORKED!! My teeth are not only whiter, but they feel smoother also, thanks, I can't wait to try others." It has about 100,000 – 500,000 downloads and is available in Current Version5.1, which requires Android 2.3 or up.
Homemade Beauty Tips:
Homemade Beauty Tips App incorporates Natural beauty tips which can be prepaid without any hassle at home. This app contains some Natural Ayurvedic remedies for problems related to face, hair, eye, skin, arms and feet. It is split into five categories;
* Face Beauty tips
* Hair Beauty tips
* Eye Beauty tips
* Skin Beauty Tips
* Arms and Feet Beauty tips
Each category has got various subentries such as natural homemade tips for fair skin, face-cleanser, blemishes of the face, head lice, dandruff, loss of hair, prickly heat, dark inner thighs and underarms and so on.
Shruthi Shetty, one its user confirms that these remedies actually work and are quite easy to try at home. Furthermore, it has a decent rating of 4.5, rated by 466 people. The number of installations of this app is around 100,000 – 500,000. Offered by JewelStore, it has a current version 1.4.1 and requires Android, 4.0 or above.
Beauty Tips:
With more than 100 thousand installs, Beauty Tips offered by LoviEvi is among the more popular apps in Google Play. It provides you valuable beauty tips for skin, hair, makeup, nail care and healthy nutrition. In addition to that, now they've added tips for losing weight.
"Really good app. This app has some really good tips that really helped me.", claims Zach Isherwood, one of its patron. It has been reviewd, and rated by around 966 people with installations around 100,000-500,000. It has a current version of 32.0, which requires Android 2.3 and up.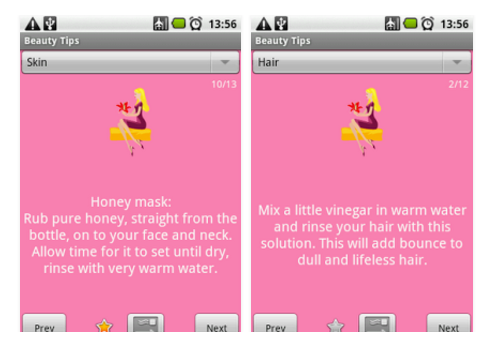 Complete Beauty Guide:
If you are hunting for flawless skin, glowing face or gorgeous hair, Complete Beauty Guide offered by AndroAppDevelopers can be at your disposal. With a rating of 4.1, along with a review of 4167 users, this app brings to you simply and at the same time, effective tips for face, skin and hair.
Following the homely tips in the app, you can collect the compliments racing to your direction. Once you try out the easy beauty tips, you are sure to cut the cost of your make-up and parlour bills.
This app features;
*Tips for healthy long and shiny hair, and reduction of hair fall.
*Tips for Glowing face and cure for pimples, wrinkles, dark circles, etc.
It also has Winter and Summer skin care tips which include;
*Tips for the dry, oily and glowing skin.
*Recommended Foods for healthy hair and healthy skin.
One of the perks of this app is that not only is it free, but you can use it offline/online. About 100,000-500,000 have installed this app. It is available in current version 4.0, which requires Android 2.3 or above.
Taking care of yourself:
In this app, you will find lots of necessary information that will help you taking care of yourself.
For example, you can learn how to make a natural facial mask and the process of applying it. In the hair section, you'll learn how to get rid of split ends, and make of homemade masks that will jibe with your hair type. Conversely, you'll learn to keep your skin young and beautiful for a long time.
One of the users satisfactorily comments, "I just love this app. This app has great advices on how to properly take care of your skin and your whole body. To whoever created this app. I love you and thanks for this."
Every modern girl can download "Taking care of yourself" to be aware of everything related to beauty, youth and health, describes the app. The ratings of this app is 4.6, with a total of 11,033 users reviewing it. Approximately, 500,000 – 1,000,000 downloads have been done so far. This app is offered by Dmitry Nazarenko, with a current version of 2.0.3 with a requirement of android 4.0 and above.