Yahoo web services will now come embedded with all the mobile phones which will have microchips of MediaTek, the internet company has announced.
Many Indian handset makers, including Lava, MicroMax and Lemon Mobile, use MediaTek chips in their phone. The move is not likely to affect the pricing of the handsets having Yahoo services embedded in them.
The service, supported by MediaTek, would include Yahoo Mail, Messenger, Flickr, News, Weather, Finance, Cricket and Answers.
Besides, MediaTek is also planning to add other web apps in the phones as well. Yahoo web apps will be the first one in the line, with other web apps to follow soon.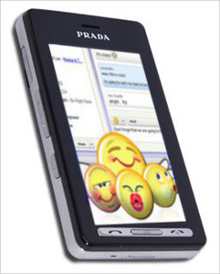 MediaTek is mainly known for its wireless chips integrated in unbranded feature phones. These phones are mostly sold in emerging countries. The service will use the MAUI runtime environment (MRE) developed by the company.
The MAUI runtime environment is basically a middleware technology which will allow developers to develop apps for smart feature phones, a MediaTek spokesperson said.
This tie-up will benefit Yahoo since its content services would now reach a wider audience than before, though any additional revenue stream from the move is not foreseen at this point. With the increase usage, Yahoo may hope to sell more ads through the MediaTek mobile platform.
"This partnership will allow users of handsets powered by MediaTek's System on Chips to easily discover and connect with Yahoo!," the two companies said in a joint statement.
MediaTek is basically focusing on mass market smartphones, the main market driver for the handset growth, as this is the market segment which is mostly neglected by major apps developers. These low end phones often do not have a complete operating system either but they do have a browser and some storage as well. The other companies interested in targeting the same market include Opera Mobile and Myriad Technologies.
MediaTek is also working with handset makers such as Cherry Mobile and Spice Group. The new partners will also work together with the company in developing feature phone widgets &#151 after that the next logical step would be developing mass smartphones running on Android operating system.