Alibaba Cloud Computing, developer of advanced data centric cloud computing services and a subsidiary of Alibaba Group which is 40 per cent owned by Yahoo, has unveiled its internally developed cloud-based mobile device operating system, "Aliyun OS."
While the OS has been launched for the Chinese market right now, the company is looking to launch it in other markets as well.
"We do not rule out the possibility of the OS making its way to customers outside of China in the future," An Alibaba spokesperson told The Mobile Indian when asked about the same.
Yahoo, the search engine giant, which has large stake in Alibaba would love to extend this OS to other markets so that it can rival its arch rival Google's mobile OS offering 'Android'.
The other very important stakeholder in Alibaba is SoftBank, which is a major mobile operator in Japan, and it might also tempted to use this operating system to challenge the dominance of Docomo, which is the biggest mobile operator in the Japanese market.
AliCloud also plans to integrate the OS with other devices including mobile phones with larger screens and tablet computers in the coming months.
Another important plus point of the OS is its support for Android apps, which means all the apps developed for Android platform will work on the phones based on ALiyun.
"Mobile users want a more open and convenient mobile OS, one that allows them to truly enjoy all that the Internet has to offer right in the palm of their hand, and the cloud OS, with its use of cloud based applications, will provide that," said Wang Jian, president of Alibaba Cloud Computing.
He added, "Introducing cloud apps to mobile devices not only brings a whole new user experience, but also greater ease for third-party mobile software developers who will be able to use Internet technology such as HTML5 and JavaScript to reduce the complexity in the app development process."
The cloud OS will feature cloud services including e-mail, Internet search, weather updates and mapping and GPS navigation tools. A distinguishing feature of the cloud OS is its support for web-based apps.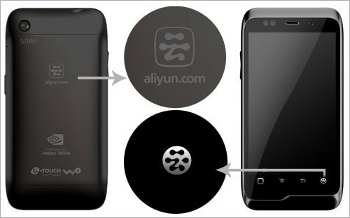 These offer users an Internet-like experience and do not require the user to download or install application software on their mobile devices. Cloud OS users can seamlessly synchronise, store and back-up data such as contact information, call logs, text messages, notes and photos to AliCloud's remote data center, and can also access and update this data across all their PC and mobile devices.
AliCloud will provide each cloud OS user with a total of 100 gigabytes of data storage initially, with plans to expand according to user needs.
Third-party developers can opt to either develop cloud apps over their own servers or choose to use AliCloud's infrastructure and open platform services at a low cost and quickly develop their businesses.
The cloud OS is the result of three years of development and uses AliCloud's self developed distributed file system and virtual machine.