Yahoo has released the official Flickr application for Android smartphones. The new Flickr App requires the mobile phones to run Android 2.1 or higher. Users can click and share photos immediately along with location information through the Flickr app. Apart from that, users can also comment on photos and activity. However, this first version of the app misses out the Groups feature of the PC version.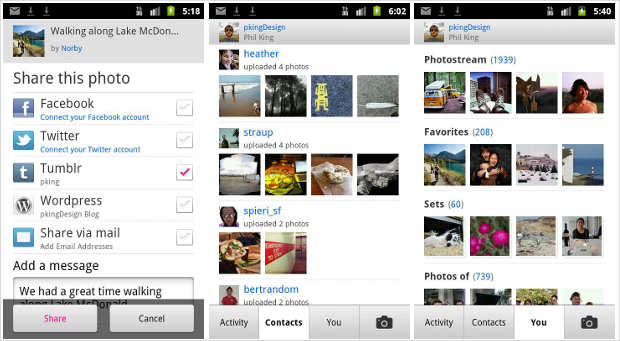 Image sharing enthusiasts who possess a Flickr account can use their Android smartphones to capture, upload images and also access the Flickr albums on the device. The first version of the app does the necessary basics like clicking photos using the smartphone's camera, adding details including location, adding tags and also commenting on the photos.
The user interface of the Flickr app is smooth and offers left to right swipe navigation. Flickr account access is possible through Yahoo account, Facebook account or Google account. Users can search for their friends and other folks using the search option to add them as contacts.
The app allows uploading the captured images to Flickr and also immediately share the link over social networks &#151 Facebook, Twitter, Tumblr, WordPress and even send via Email.
The app claims to offer full screen experience and allows user to download the images from the Flickr as well. Geo-tagging is added feature for those who wish to upload out images with location.
You can download the new Flickr for Android app from the Android Market.