Just recently, we reported that Xiaomi Mi 6 won't be featuring an ultrasonic fingerprint sensor. Now some more leaks about the Xiaomi Mi 6 have surfaced online which has revealed that the device will come in two variants – a full HD display and a WQHD display.
A Chinese microblogging website, Weibo user @Reviewer_Well has revealed the information via his post on the website. As per his post, Xiaomi Mi 6 will come in two variants – 4GB RAM with 32GB of internal storage having a full HD display and a 4GB RAM with 64GB of internal storage with a WQHD display. Furthermore, his post says that the front camera will come with Sony IMX268 8megapixel autofocus sensor which is the same one in the Xiaomi Mi Note 2. The device will boast 12-megapixel rear camera with Sony IMX386 sensor instead of 22.5-megapixel in the Mi Note 2.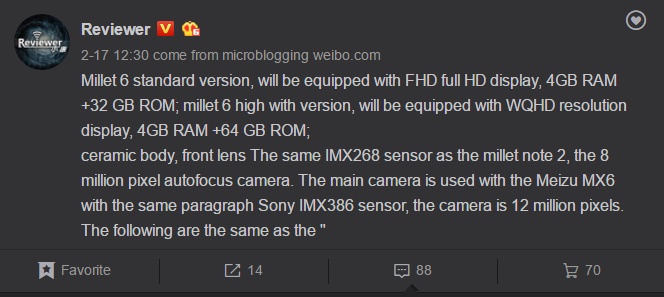 Recent reports have revealed that Xiaomi Mi 6 will indeed come with a flat variant with 5.2 inches full HD LCD display instead of an OLED display with dual-curved edges. Meanwhile, another report revealed that Xiaomi Mi 6 will arrive in three different variants with different chipsets. The first variant will be equipped with Helio X30 SoC and will carry a price tag of about 1,999 Yuan which is approximately Rs 19,757. The second variant will run on the latest Qualcomm Snapdragon 835 chipset, and is expected to be priced at 2,499 Yuan (approx. Rs 24,718). The third variant will also come with the same Qualcomm's chipset and will be priced at 2,999 Yuan which is approximately Rs 29,667.
The Snapdragon 835 variant of the Mi 6 is rumoured to arrive in two variants – 6GB RAM with 256GB internal storage, and 4GB RAM with 128GB internal storage. Both the variants are said to feature OLED panels with 2K resolution. The other variant of Mi 6 which is said to use the MediaTek Helio X30 processor is rumoured to come only in one option which includes 4GB RAM and 64GB internal storage. The Mi 6 will run on Android 7.0 Nougat out-of-the-box and will be powered by a 3,000mAh battery.
Also Read: Xiaomi Mi 6 not to have Ultrasonic Fingerprint Scanner?
Also Read: Xiaomi Mi 6 to feature lower clocked Snapdragon 835 SoC?
The Xiaomi Mi 6 is expected to go on sale around April this year. It will not be showcased at theat the upcoming MWC 2017 as Xiaomi will skip the event this time around.