Back in November, OnePlus rolled out OxygenOS 5.0.7 update to the OnePlus 3 and OnePlus 3T users with support for Type-C Bullets Earphones. While OnePlus confirmed that Android Pie will be coming to the device without getting Android 8.1 on the two devices, the company has now revealed that Android Pie will be rolled out to the One Plus 3 and Plus 3T in the near future.
The news comes from OnePlus community manager David Y. who commented on a OnePlus forum post saying Android 9 Pie will come to the OnePlus 3 and OnePlus 3T. However, before the Android Pie update is developed, users will be seeded with a new Android security patch which will be based on Android Oreo. Once that is complete, OnePlus will release an update to the latest version of Google's mobile OS.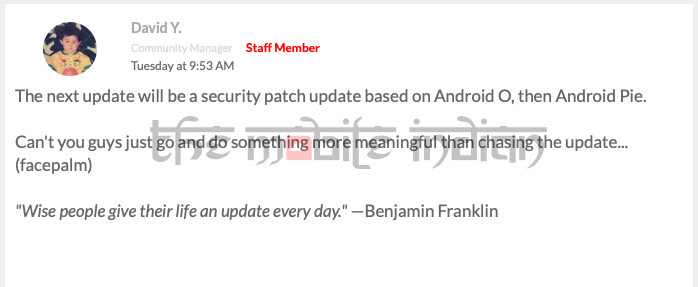 Weirdly so, the community manager also taunted the forum members who repeatedly asked for an update and said: "Can't you guys just go and do something more meaningful than chasing the update".
That comes as a harsh reaction from OnePlus considering they only release two smartphones on a yearly basis and it only makes sense for customers to ask for an update to Android Pie since it's been seven months since Android Pie arrived in the first place. Moreover, OnePlus isn't the only company to seed a 2016-based smartphone, the latest update as Huawei recently started rolling out its Mate 9 series with an update to Android 9 and even that phone was launched in 2016.
There's no official word on when OnePlus will roll out the update for the OnePlus 3 and OnePlus 3T but we can expect the same to arrive in a stable manner weeks after beta testing begins.