Just days after announcing the Mate X foldable smartphone and a new line of MateBook laptops, Huawei has now started rolling out Android 9 Pie update to the Mate 9 series as well as the Nova 2s and P10 series.
The latest update will bring Android 9 Pie which will be based on EMUI 9.0 for the listed Huawei smartphones. The eight eligible devices include the Nova 2s, Mate 9, Mate 9 Pro, Mate 9 Porsche Design, P10, P10 Plus, Honor 9 and Honor V9.
EMUI 9.0 will employ a new gesture setup for task-switching. Swiping up from the centre on the bottom chin will get back to the home screen or lead you to the Recent apps menu while swiping from the left will take you back to the previous screen. There's also the new and improved GPU 2.0 which works on newer algorithms to minimises the power required by a game for a lag-free performance. The new Password Vault will store all your usernames and passwords under one roof and can only be accessed through facial recognition or the fingerprint scanner.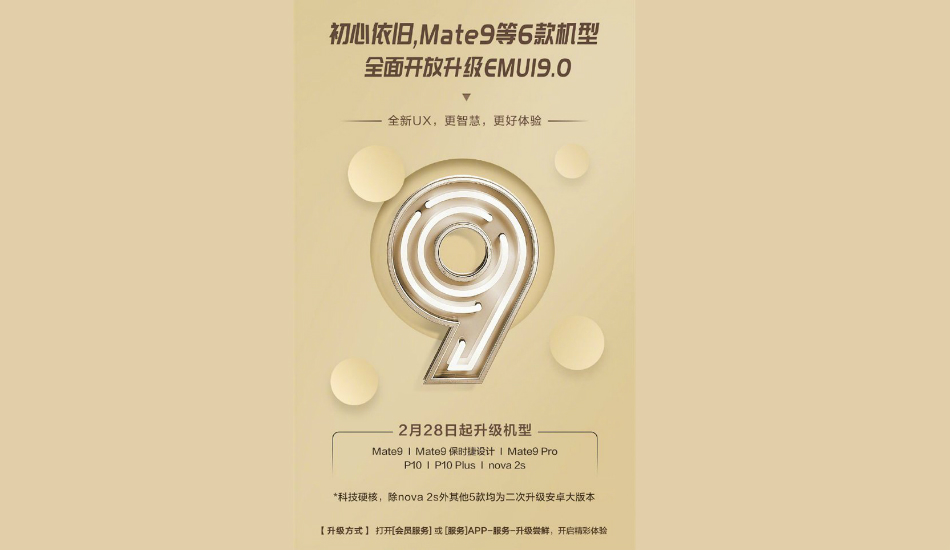 Alarms and incoming calls will now take advantage of the whole screen while the Settings app displays artistic illustrations in each section. In terms of apps, Huawei's own apps will soon feature tabs and controls at the bottom part of the screen which is the easiest place to access, however large a smartphone is. This will thus allow room for one-handed navigation across the entire interface and will go well with new swiping gestures on the home screen which will bring up the navigation panel.
The latest update will also make the Huawei Mate 9 the oldest non-Google smartphone to receive Android 9 Pie as the device was launched in November 2016 and initially came with EMUI 5.0 with Android Nougat.
Huawei has already started seeding EMUI 9.0 on the Nova 2s, Mate 9, Mate 9 Pro, Mate 9 Porsche Design, P10, P10 Plus, Honor 9 and Honor V9 which can be accessed by heading over to the Huawei Services app and tapping upgrade on your Huawei device.