WhatsApp seems to be finally coming with payment services by integrating Unified Payments Interface (UPI) soon. Last month it was reported that WhatsApp Payments would be rolled out in India this month. And now, WhatsApp has started rolling out the beta version of the app for select beta iOS and Android users. This feature is available in WhatsApp beta version number 2.18.41 for Android and 2.18.21 for iOS.
First reported by GizmoTimes, WhatsApp has started beta testing WhatsApp Payments in India. It has been rolled out to only a few beta users, so even if you have enrolled for the beta program, you may not be able to see this feature.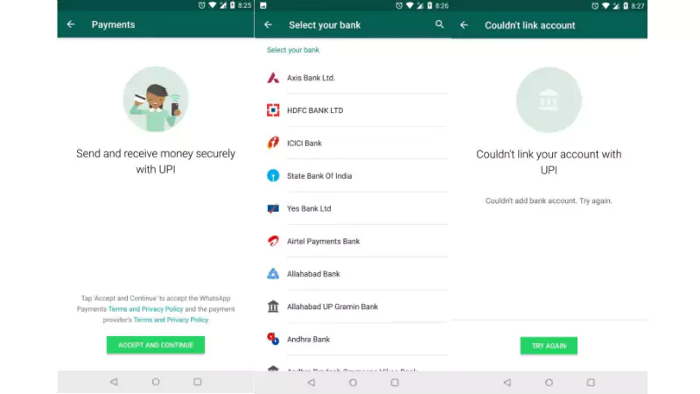 With WhatsApp Payments, users can send and receive money from within WhatsApp with UPI (Unified Payments Interface). To either receive or send money, you have to first link your bank account which is already linked to UPI. It is important to note here that both sender and receiver need to have UPI setup in their WhatsApp accounts for the payments to work.
This new payment option is located in the attachments menu. The report by GizmoTimes says that the camera icon shortcut has been replaced with this new Payment option. You now get Document, Payment, Gallery, Audio, Location, Contact options in the attachments menu.
If you haven't linked your account then it will re-direct you to your Banks app for you can use the BHIM UPI app to link your bank account with UPI. You will see a list of banks in WhatsApp from which you can select your bank. Once you get the UPI number you can use WhatsApp payments. The list of the banks that can be seen in the screenshots include Axis Bank, HDFC Bank, Yes Bank, ICICI Bank, Airtel Payments Bank, Andhra Bank, and State Bank of India among others.