WhatsApp is getting a new feature that will enable users to share their WhatsApp Status to their Facebook Story section. Similar to Facebook Stories, WhatsApp Status shared on Facebook will also come with 24-hour visibility.
The chat messaging service has silently started rolling out the sharing to Facebook feature on WhatsApp for Android version 2.19.258 or higher as well as on iOS. While there hasn't been an official announcement, WhatsApp is hosting an FAQ page to help users know how to share "WhatsApp status updates to other apps".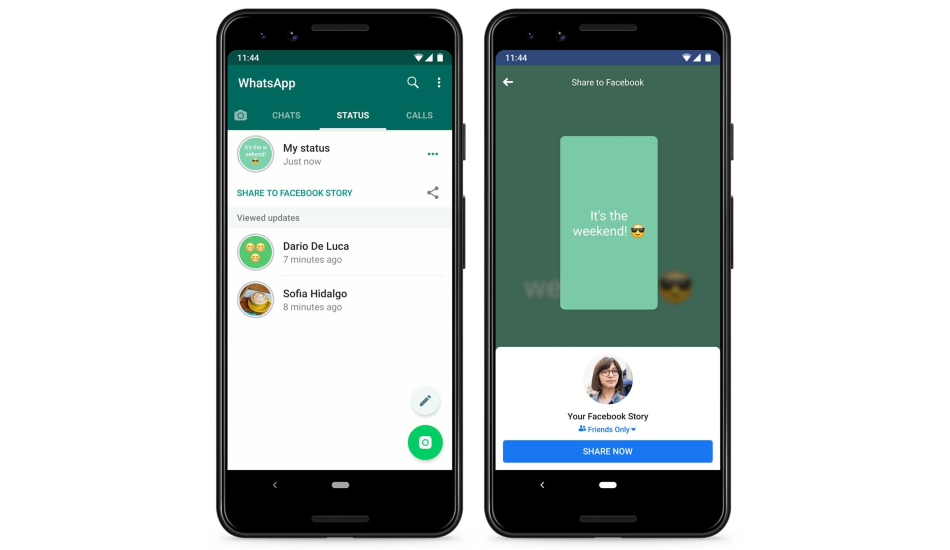 To share WhatsApp Status to Facebook Stories
1. Open WhatsApp and create a status.
2. To share a new status, tap 'Share to Facebook Story' under 'My status' and allow the app to open the Facebook app.
3. Select the audience you want to share your status to on Facebook and then click on 'Share Now'.
4. When sharing already shared WhatsApp Status, head over to 'Mu Status' and click the three-dot button when the page shows the status that you specifically want to share and then click on 'Share to Facebook'.
5. Allow WhatsApp to open Facebook, select your preferred audience and tap on 'Share Now'.
WhatsApp is also reportedly rolling out a hide mute status feature to the WhatsApp Beta app on Android. The feature will essentially let users hide status updated from contacts that have been muted, says WABetaInfo. When enabled, the feature would show a 'Hide' button when viewing the muted status of users.
Besides that, WhatsApp is also testing Facebook Pay right within WhatsApp. The feature is being tested for users in Mexico and will be a new method of payment for Facebook Pay.