WhatsApp has become a primary source of messaging in our daily life. Whether be it giving some vital information to your near and dear to those late nights chats with your loved ones, it has now become an integral part of our life.
However, the functionalities and customisation options in WhatsApp is quite limited in nature. That's why we have its spinoff with WhatsApp Plus or GB WhatsApp. In this article, we will talk about WhatsApp Plus, how to download, what all it offers and more.
Word of Advice!
Before moving on, it is important to note that the application is not a trustworthy application. A recent report by Malwarebytes Labs has revealed that the application gathers user data and it is said to be a variant of WhatsApp riskware. So, if you want to try out this application, it is important should be aware of the risk it involves. That said, let's get started with the application.
How to Download and Install WhatsApp Plus!
The application is quite easy to find on the internet. All you need to do is type WhatsApp Plus and you will get the APK of the application. However, once again, it is important to note that one has to download it from a reliable source. Once you downloaded the application, do the following things:
Go To your original WhatsApp application backup your chat settings. In order to do so, go to Settings > Chats > Backup

Backup your chat and then uninstall the WhatsApp application.

Now install the APK of WhatsApp Plus, which you downloaded from the internet. You need to give the permission to install it. Once the installation is completed, open the application.
Enter your mobile number and verify your number via OTP code. Enter your name and add a profile picture and you are ready to go.
WhatsApp Plus interface!
The interface eerily resembles the original WhatsApp. However, you will shortly notice some major difference once you start exploring. For starters, you can find WiFi sign, which is basically a DND mode through which you will not receive or send any messages until you disable it.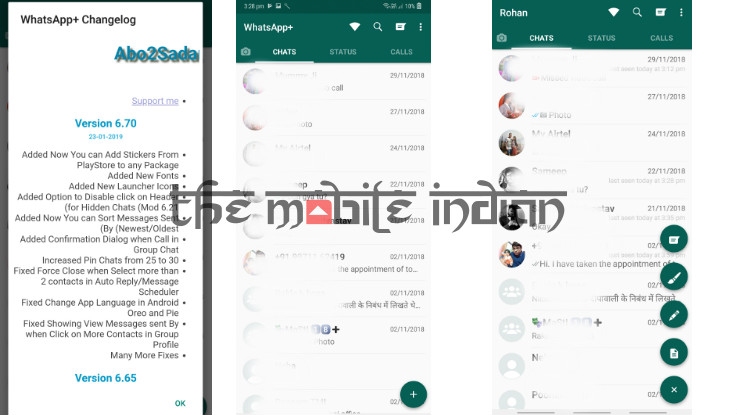 There is a plus sign at the bottom of the application, which opens a plethora of options once you tap it. The first option you will encounter is the log, which gives information regarding the activities on the application.
The second option comes out is the More Options menu. The menu is divided into different sections, which has multiple customisation options to choose from.
Features of WhatsApp Plus
Starting with the features. You get a host of interesting features and customisation options, which is not found in the original WhatsApp application. To begin with, there is a Auto Reply Message feature, which automatically replies to a message. In order to make it work, Tap on the + sign and click on Edit like icon. There you will find the Auto Reply Message feature.
Tap on it and you will see a + icon at the bottom. Tap it and it will take you to another page where you select what message needs to be auto-replied. You can select the message you need to send it to the receiver and can even select how time you need it to be sent to the person.
Then there is an option for a specific time where you can have a start and end time. The app also allows you to add specific contacts/groups and you can also choose to whom this auto-reply feature should not work. Once you filled up all the details, tap on Add.
You can also download themes with the WhatsApp Plus application. The option helps you to customise the app according to your own taste.
Customisation options in WhatsApp Plus
To begin with, the app gives you an option to customise the chats and the main menu according to your own need. There is a Conversation Screen, which can be found in More Options menu. The menu is then divided into four sub-sections namely Header, Chat, Translucent mode and Pics. Starting with the Header you get following customisation options:
You can change the background colour and give it a gradient orientation

You can choose the Header Icron colour and contact name colour.

You can choose Contact Status colour and change colours of last seen, online, typing, icons and more.

There is an option to disable display picture when you are chatting. Switching on this menu will disable opening contacts pic when you are in chat.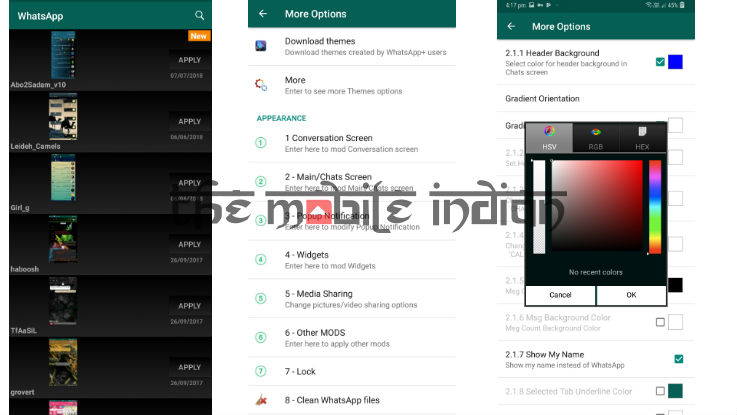 The second section is of Chat under which you can do the following things
Use Custom Wallpaper

Change Chat Background

Change Chat Bubbles Style

Change hyperlink colour and change message size

Change date size and status icon colour

You can also change the Blue ticks colour as well.
Moving on, The appearance menu also has Main/Chat Screen under which you can change the design of the home screen according to your need. You can change the following:
Chat Header

Chats Rows

Call screen

Contacts screen

Floating Button

Starred Message Screen
Then there is an option for Media Sharing. In this section, you get the following features:
Selecting Upload size limit in videos (max is 50MB)

Ability to send maximum resolution when sharing images

Selecting upload size limit of audio

Uploading maximum resolution image when sharing status

Sending original picture size with the same height and weight

Increase video status limit to 7 minutes instead of 30 seconds.
Other features of WhatsApp Plus
Here is a list of different features that WhatsApp Plus has to offer:

Increased forward limit

No Forward tag will appear when you send it other users

Hide last seen, Blue ticks and second ticks

Ability to recall WhatsApp messages and one can also schedule it

Anti-revoke messages through which users will not be able to delete messages once they sent it you.

Change launcher icon

Status clipboard to copy anyone's status

Always Online feature, which lets you project that you are online 24×7

Increase Status Limit to 255 characters.

Send stickers

Sort messages by newest/oldest.

Notification of a person when he/she is online
Final Conclusion
To conclude, the WhatsApp Plus application has a lot to offer where the original WhatsApp fails to do so. We liked the fact that users can send an original resolution of the image and the ability to sent videos is yet another interesting thing. The Auto Reply message feature is one thing we would love to see in the original WhatsApp Messanger as it is helpful when you are not to reply to someone's text. However, using it is quite a complex thing and it will take some time to get used with this application as there are many settings to play around with. As per the final verdict is concerned, if you are ready to take the risk, the WhatsApp Plus is an app that gives you lots and lots and lots of options, which at end of the day makes your life easier or complicated.