In a development that underlines its success, the popular cross platform messaging application WhatsApp has reported that users are sending about one billion messages using the app every day.
"1 billion messages a day is a significant milestone and also a small step closer towards our goal: providing a great mobile messaging system for a global market, regardless of your handset," said WhatsApp in a statement.
Its competitors – iMessage is available on iOS only whereas BBM is there only for BlackBerry handsets. On the contrary, WhatsApp is available on iOS, Android, Windows Phone, Blackberry and Symbian in 11 languages.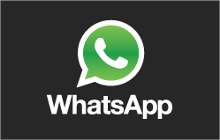 Its appeal can be gauged from the fact that while BBM or new iMessage from Apple come pre-installed with the respective devices, WhatsApp Messenger has to be downloaded separately by the users on their devices. It has spread to its current level of popularity simply when friends recommended the app to their friends and the chain just continued.
While other messaging apps are free, WhatsApp charges its customers the first year. However, it is free for the users from the second year.