Wouldn't free calls and texts be a dream come true? So far, the best solutions for this are voice over internet protocol (VoIP) services. We already have VoIP services from Skype, Nimbuzz, Fring and so on. The all new Viber App for iOS and Android promises free voice calling and texting over 3G and WiFi networks. So the only charges you will incur are data costs. It doesn't matter if you are making a local or an international call as long as the receiver on the other end is using Viber as well.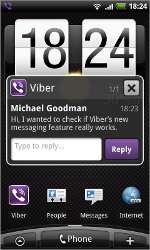 The new Viber App for iOS and Android is a sort of cross platform instant messenger without any exact notifications about the number of messages opened or read. The basic requirement for using Viber is that the person you're calling or even texting must have Viper on their Android phone or iPhone.
When you install Viber on your Android or iPhone device, it will first ask for permission to access the phonebook to check if any of the contacts are already using the app. After that the user will have to enter his/her mobile phone number to get registered with the service and in return will receive a four number code to confirm registration.
Once registered, users get to see three tabs for contacts: Viber, All and Favorites. The Viber contact list represents Viber users with their phone numbers listed on the device. There is no nonsense involved in creating a username or in adding buddies. The Phonebook automatically becomes the buddy list.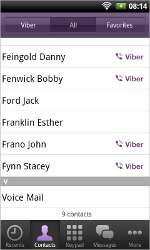 Call quality is brilliant over WiFi but results vary over 3G and Edge networks. Texting on Viber is almost like it would be on an instant messenger.
This app is good to use for free calls and the only troublesome part is that the application needs to stay running in the background.
Viber has been tested with a limited number of Android devices but will work on those running Android 2.0 or higher. iOS devices require iOS 3.1. Viber app for BlackBerry platform is under development and should be released soon.
The app can be downloaded from Android Market for Android devices and from the Apple App Store for iOS devices.