Hearts might have started thumping by now as the most auspicious day for lovers – the Valentine's Day, is round the corner. So here it is your chance to show your partner again how much you love him or her.
To help you, we brought you the top love calculators across the platform. So whether you have a BlackBerry or an Android or an iPhone, download these apps and that too for free.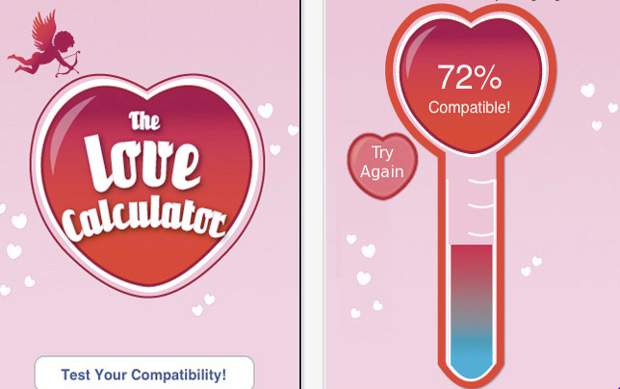 Testify (Love Calculator) for Android
"This is just a fun app, trust your heart not the computer," the developers of the app said on its page in Android Market. Though we won't comment how accurate it is but we can always say that try it!
This free app is available for all devices with Android 1.6 and above. It has a simple interface with five buttons – Start, Horoscope, Love Facts, Settings and Exit. To calculate your love, just click the Start button and put the name in the corresponding fields and hurray you have the results.
It shows the results with just romantic sentence, so if you want to impress your love, use it in front of her/him! It also provides horoscope results. In the settings, it provides an option for users to play songs every time you calculate your love. A downside of the app is that it does not allow you to post the results on social networks like Facebook or Twitter.
To download the app, click here.
The Love Calculator (iPhone and iPad)
"Wondering how compatible you are with your new boyfriend or girlfriend? How about that secret crush? Now you can stop picking off flower petals and asking yourself if he or she loves you – or loves you not," the app developers said on the iTunes page.
We can agree no less to it either. Yes, if you definitely wondering how compatible you are with your dream partner, go ahead try this app.
This free app has also a very simple user interface – just put your and your partner's name and check the compatibility. You can also post the results on Facebook as well.
It is compatible with iPhone, iPod touch and iPad and requires iOS 3.2 or later. To download it, visit the iTunes's store or click here.
Love Matcher (BlackBerry)
It is a very nice app. It not only matches your name with your partner, but also it provides love quotes in terms of Daily Love Forecast. It also runs a reminder for the Valentine Day.
You can copy the love quote as well to send it to your sweetheart over BBM (BlackBerry Messenger) or email too.
It is available in all countries for BlackBerry devices with BlackBerry 4.6.0 or higher operating systems. To download it, click here.
There are few other such apps in the BlackBerry App World as well, to see all of them click here.
Date Love Calculator (Getjar)
If your are bored matching names, then try this app. Usually, many complaint that usually apps which calculate compatibility on the basis of names often give the same result irrespective of what you type. But, this app is different. Unlike other such apps, this Date Love Calculator predicts couple's compatibility on the basis of their birth dates.
But it do not have any facility for listening to songs or posting the results on social network sites. Neither it has any provision for mailing the test results to someone you want.
It is available from Getjar which is known for its safety of apps. To download it, click here.
The Love Calculator for Nokia
In India, a majority of users use Nokia handsets, so we thought it very apt to discuss one such app for the Nokia users. Like all other above mentioned applications, this is also meant for the beating hearts. The developer of this app claim more than 1 lakh downloads of this app on other platforms in combine.
It, however, have a different look. As you type your names in the corresponding boxes and click the calculator button, it shows the compatibility between you and your partner in a speedometer like thing. Then a results page would crop up showing what you two would become in future.
To download this, go to Nokia Ovi Store or click here.