Uninor, a joint venture between Unitech and Norway's Telenor, said it is planning to start services in five more hubs (each hub includes a few circles), within the next three months.
Speaking to Telecom Yatra, Allan Bonke, executive vice president, Delhi hub, Uninor, said, "Since we operate as hubs, we are planning to get five more hubs within the next three months."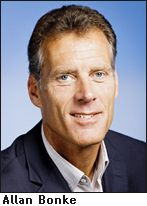 The company holds a pan-India unified access service license to offer mobile telephony service in each of India's 22 circles. It has also received spectrum to roll out these services in 21 of the 22 circles. At present, its services are available in the eight circles of UP (West), UP (East), Bihar, Orissa, Tamil Nadu, Karnataka, Kerala and Andhra Pradesh.
Uninor has been active on voice but has not been doing much on the VAS front. Bonke said, "In the future, you will see a lot of VAS coming from us. We have VAS already, but it is very small. We will be doing a lot but I can't tell anything right now. It will be a surprise for both our customers and competitors."
The operator has not followed its competitors to launch per second and per minute billing. Bonke says, "Our tariffs have been a big success in India. We did not take to per second billing as we thought that it is not going to be a differentiator for us. We want to be competitive but we would like to do it at a fast speed and cost effectively. We want to have competitive tariffs."
Uninor currently has more than 200,000 retailers across India and says that over 90 per cent of its retail presence is complete.
The company is targeting an eight per cent market share in India by 2018. Uninor has recently received the fourth and final investment of about Rs 2,000 crore from Telenor. In all, Telenor has injected more than Rs 6,000 crore of new equity into the company.