With the IPL fever now catching up, many online platforms have offered their own services to bundle with the country's biggest sporting event be it Jio, Hotstar, Airtel or BSNL. India's leading cab hailing service Uber is the latest to jump on the IPL action as it launches its own IPL Trivia Quiz where users get a chance to win free rides upon answering questions related to IPL during its ten years of run.
Users will be greeted with the Trivia Quiz inside the Uber app upon scrolling down to the "Question of the Day" card. This card would display a single question every day from April 9-15 where the top 50 scorers will be awarded rides up to Rs 500. While answering a question correctly would win you ten points, users who answer the same correctly after booking a cab will fetch 30 points.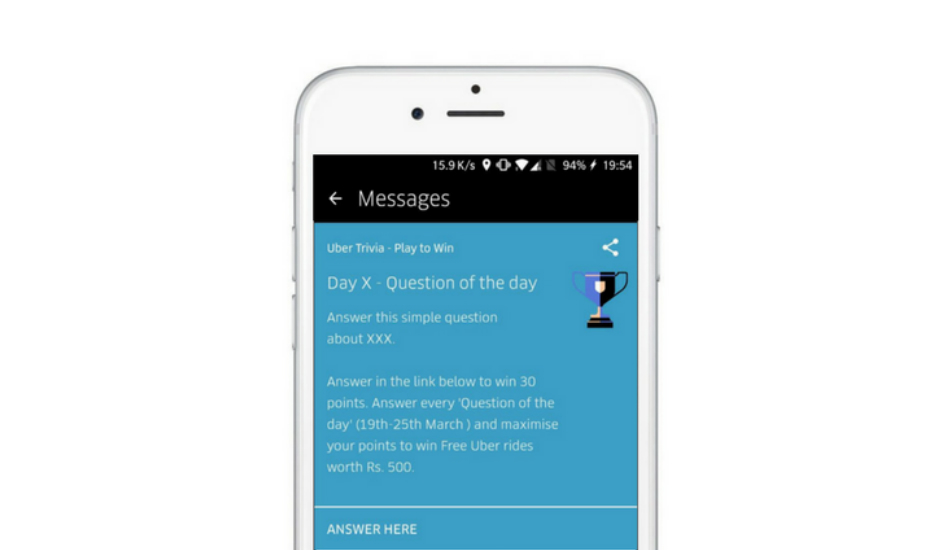 Users earning the most points by the end of the week will be rewarded with a voucher of Rs 500 which would allow them to book free rides. Different cards will show up at different times, depending on whether you're on a trip or not.
Meanwhile, Reliance Jio is offering users at IPL stadiums with super fast 4G speeds during a match while BSNL is offering an IPL specific cricket pack with 51GB of data. With all digital and TV rights for the IPL under its belt, Hotstar is also offering a whole years of sports content for Rs 299 on a 12-month subscription.