Txtweb, an SMS based platform which works on all the phones and provides users with information they need, has added several new applications that can be accessed using simple SMSes thanks to 'Code Warrior' developer contest.
The contest was conducted to encourage developers to come up with innovative SMS based mobile apps. The top 10 developers got an all-expense paid trip with accommodation to showcase their apps to the judges in person Bangalore. The apps were evaluated based on the quality of the idea, integration and overall user experience. The three winners were awarded with prizes which included Galaxy tab, home theatre and digital cameras respectively.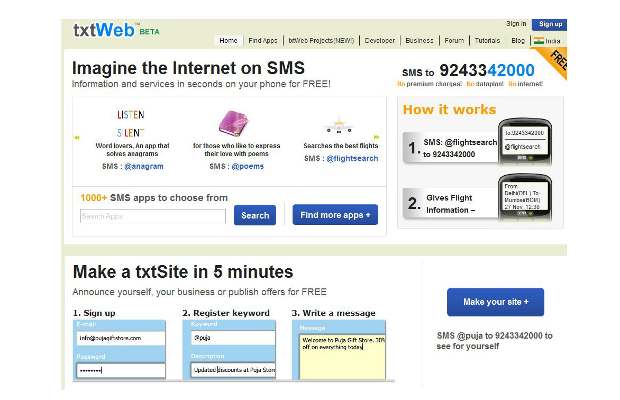 Here is the list of top 5 app that won accolades and are now included in the TxtWeb app.
@vinbox (1st prize):
It creates a virtual inbox and backs-up all your messages in web. You will be provided web link to your inbox and can browse and edit your backed up messages and also send them back to your phone. You can email this message and also share this message with your friends in all social networks including Facebook, Twitter and Linkedin.
To use this app all you need to do is to send an SMS @vinbox-register-your name to 9243342000, ones you have registered you can send any of your message to @vinbox-your message-to 9243342000 to back up the massage. You can access these mails through web also on http://www.txtweb.com/apps/vinbox
@voiceweb (2nd prize):
If you want to listen to what otherwise would be a massage from Txtweb platform, you just need to call 01130908660. Since right now, it is in prototype stage, not many options are available.
You can get this app from this web page (http://www.txtweb.com/apps/voiceweb).
@mohitsaini (3rd prize):
Though the name of the app is very unimaginative, the app is not. Its developer, Mohit Saini has been unwell for some time and made this app so that all his well-wishers could get first-hand knowledge on how he is recuperating.
You can do the same by sending a sms @mohitssaini to 9243342000. The platform provides similar opportunity to user to create similar apps for themselves. To know more visit this web page (http://www.txtweb.com/apps/mohitsaini)
@connect4: (4th Prize)
Its a classic game similar to 'Tick Tac Toe' that can now be played over SMS. All you need to do is SMS @connect4 to 9243342000 to register with a username. You can learn more about this from this web page (http://www.txtweb.com/apps/connect4).
@smshow:
Using this, you can solve many things in your life. For example, if you want to learn about how to improve concentration power, simply type SMS @smshow (improve concentration power) to 9243342000. Similarly, you can also SMS for other problems. The app can be found here (http://www.txtweb.com/apps/smshow)
Txtweb provides access to a variety of information in the form of an SMS. This information can be about the weather, cricket, movie show timings and so forth, or the above mentioned usage. Currently, consumers can get updates on their mobiles from a wide range of over 450 keywords.
To get information, you need to send a keyword in an SMS to 9243342000, and latest information on that topic will be delivered to your phone within seconds.
You can also get the list of different apps and keywords at txtweb.com.