Microblogging website Twitter has rolled out an interesting feature, called Highlights, for Android users. Highlights, a fast, simple Twitter summary, lets you quickly view interesting stuff that is most relevant to you.
Most of us don't have time to constantly check our Twitter feed, and if we miss something, we may never see it again. No matter how many people you follow, you're bound to miss some tweets, unless you spend the entire day on the social network. Twitter introduced Highlights feature to fix this issue on Android phones.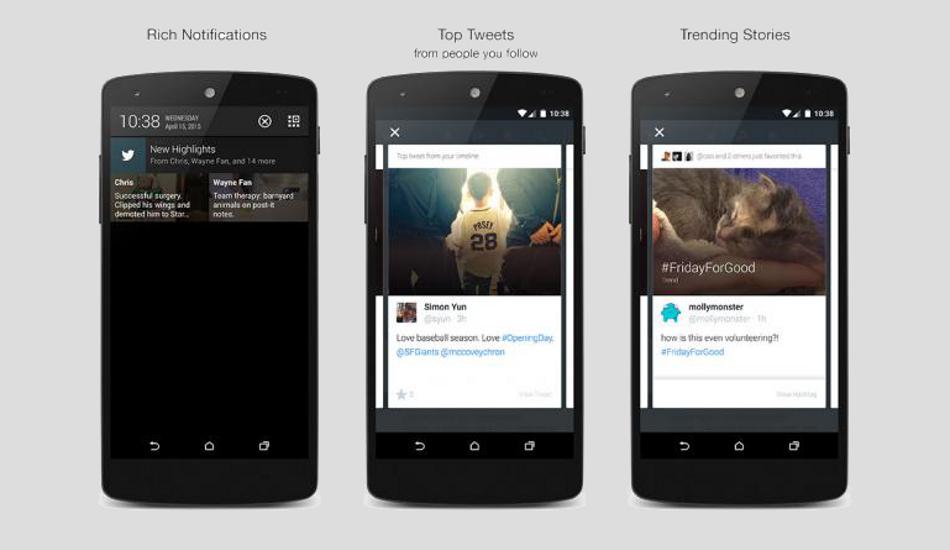 Twitter has started rolling out its Highlights feature worldwide and will be available globally in more than 35 languages. It will enable users to see a summary of Twitter activities based on their earlier set preferences and relevance, thereby saving time to go through the whole timeline or scrolling different pages.
The new feature gives you a recap of the best tweets for you with regular push notifications. The app will determine how often to send you push notifications by how often you follow the Highlights link in the notification.
When you opt in to receiving Highlights, you will get a notification on your phone up to two times a day letting you know your Highlights are ready. When a person opens the notification, they'll go directly to the Twitter app, where the Highlights will be displayed in a new interface. They can be viewed by swiping left or right. Once the user swipes through all the 'highlights' by viewing all of the summaries they are directed to their home timeline.
You don't need to wait to get a notification to view your Highlights.You can view your Highlights at any time by tapping the overflow icon in the Twitter home screen. And if you don't want to see these highlights, just go to the notification settings and you can turn them off.
Twitter Highlights will be rolled out gradually over the coming weeks. Users can download the latest version of the app from the Google Play Store. All Android 4.0 users and above are eligible to get this new feature. If you're using the Twitter app on your Android, Highlights should be automatically enabled.
"To create your Highlights, we look at things like the accounts and conversations that are popular among people you follow, Tweets from people you're closely tied to, topics and events that are trending in your area or within your network, and people that are popular or trending among people you follow," Volodymyr Zhabiuk, senior software engineer at Twitter, wrote in a blog post.
So those of you using the Twitter app on Android platform, you'll see Twitter Highlights available to you. Apple and desktop users will have to wait a little longer to use this feature with no release date set for those devices but Twitter says it will consider bringing Highlights to other platforms in the future.