Twitter has started rolling out pitch-dark night mode called Lights Out for users on Android. The feature was earlier made available on the Twitter for iOS app in March and now the same makes its way to Android phones.
The new Lights Out applies a total dark mode on the Twitter app. This will switch off the blacks on OLED panels, thus saving battery on phones with such displays. The new dark mode differs from the previous dark mode (now called Dim) which coloured the interface in dark blue instead of black.
Lights Out mode on phones with OLED displays will light up lesser than on the normal background, thus saving battery. The feature will also help reduce the strain on your eyes when using the app in lowly lit conditions.
How to turn on Lights Out on Twitter for Android
1. Click on the profile icon on the top left and then head over to the option that reads 'Settings and privacy'.
2. Inside the Settings and privacy page, you'll be greeted with several options under your username and General sections.
3. Tap on Display and sound.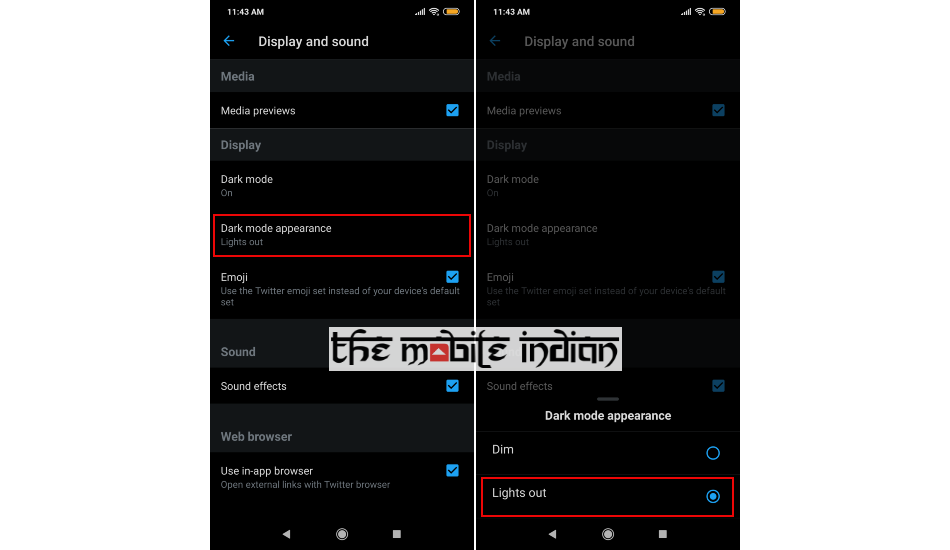 4. Inside this page, under the 'Display' section, you first need to turn on 'Dark mode'.
5. After turning Dark mode ON, tap on 'Dark mode appearance' which will bring out a popup menu at the bottom.
6. Choose 'Lights out' to set a complete dark background on Twitter. The other option named 'Dim' changes the background to a dark navy colour. You can also choose Dark mode to turn on automatically on sunset by opening 'Dark mode' and tapping 'Automatic at sunset'.
Lights out dark mode is available on Twitter for Android app version 8.18.0-release.01 and higher.