Twitter has pushed an update of its official Android app, changing the user interface of the app entirely. The new Twitter for Android and iOS app unifies with the new Twitter app interface and replaces the existing tabs/columns with new nomenclature. The new Twitter 3.0 app has been tweaked to run faster and work well on iOS and the Android OS based smartphones.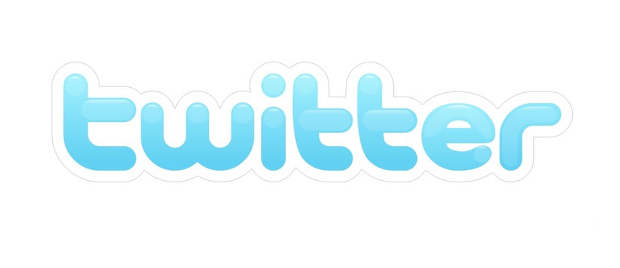 Twitter for Android and iOS was suffering from some issues and user interface was bit confusing for the average users. Today, Twitter has revamped the user interface of the app with new Twitter 3.0 update and makes it appear same as the redesigned Twitter.com page.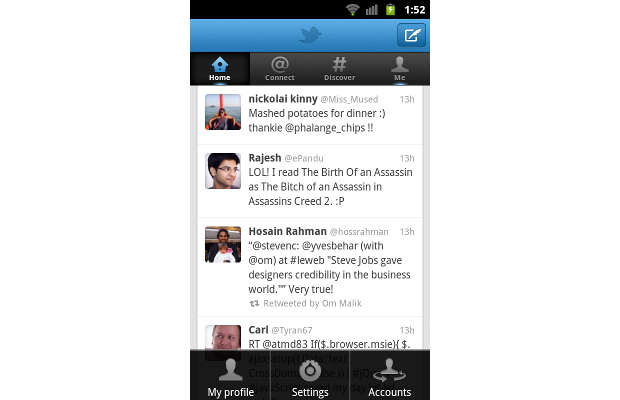 With the new Twitter 3.0 app, the several columns for Tweets, Mentions, Lists, Activity and Search tabs are now combined to four major tabs &#151 Home, @Connect, #Discover and Me (user profile). The Home tab offers the collection of the Twitter updates where the mentions of the respective user are highlighted with light blue color in the white background.
The @Connect column has replaced the Mention and activity tab. It also shows who is following the user. The new #Discover tab stands for the search option which also clubs the new trending #hashtags with the list of searches into one column. Over here, one can always search for a term with # symbol in the front to find out all tweets about that particular topic.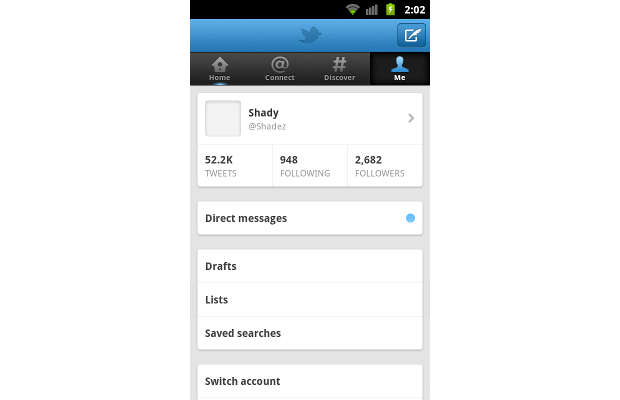 Finally the Me tab shows the personal profile of the user along with other details like Following, Followers, Lists and other details. However, there is some issue with the app for it doesn't show the mug shot of the user's display image.
Tapping on any of the tabs &#151 Home, @Connect #Discover, will take you to the top of that window. Push notifications will work only when the auto-sync option (Settings>Accounts & Settings) has been kept checked. That is bit of cumbersome because checking that option continuously eats up data and also consumes considerable amount of battery life.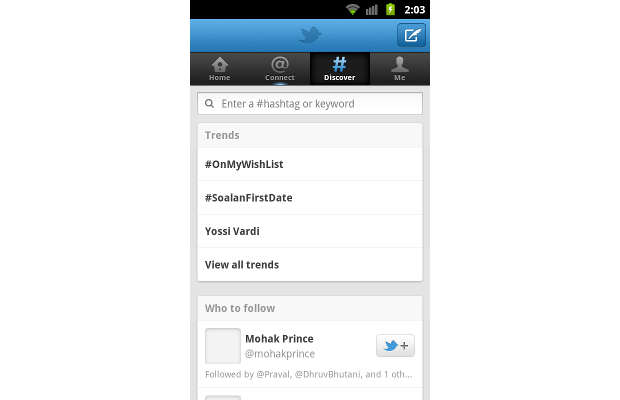 The new Twitter 3.0 can be downloaded from the Android Market for Android smartphones and from Apple App Store for iPhone or iPod touch.