Google had announced a new service for the Android platform to locate, track, ring and wipe the Android devices, which is named as Android Device Manager. This new service will be made available only for the devices running Android 2.2 Froyo or higher update. Android Device Manager would be linked to the user's Android device via the Google Account.
Google finally stepped into the mobile device location and security with the new Android Device Manager. It is quite similar to the Apple's Find My iPhone service and many other similar options offered to locate, track and remotely wipe the data on a mobile device.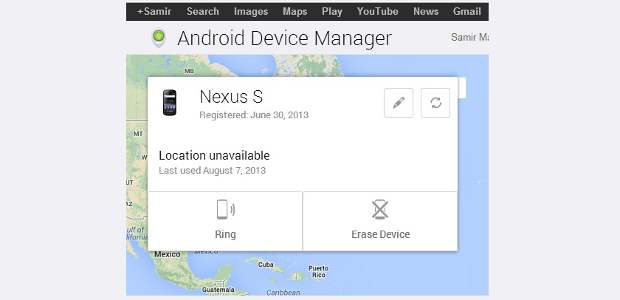 Google's Android Device Manager is now live and available for the Android devices running Android 2.2 Froyo higher. The Android Device Manager interface can be accessed at – www.android.com/devicemanager link. However, the new service is available only with the latest version of the Google Play Store.
Surprisingly, the Android Device Manager service is not activated by default. Users will have to locate this option in Settings->Security->Device Administrators.
The Android Device Manager user interface allows the user to remotely activate the Ringer on the phone. Apart from locating the device, there is an option to remotely wipe the device data using the Erase Device option. Alternatively, the user can also assign a name to the device.
To locate the device, the GPS services must be turned on in the Android device options.