While there are many video applications available from application markets, only a few offer features that add value to your video viewing experience. Here are some applications that will significantly simplify the video playing ability of the phone and add certain extra features.
Vuclip
This popular video App works on all mobile OS platforms. You will have access to thousands of videos from the net. It is easy to search for videos through Vuclip, and then you will get a link to download the video on to our phone's memory (internal or SD card). The application is free for all platforms.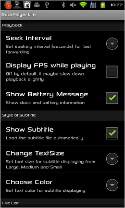 Rockplayer Lite
This free video player plays almost all file types and most users have given it very high ratings. It allows full screen viewing so that you can take full advantage of the display of your phone.
The player by default uses SD cards for storage and if your phone has a bigger internal storage, or doesn't support SD cards at all, you can change storage settings by going into settings and change 'root folder'.
The application is advertisement supported and the paid version is only available through the developer's website.
QQPlayer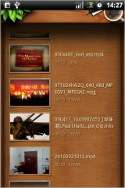 This Android video player is made by famous Chinese internet giant QQ tencent. Mobile QQ player supports the popular video formats in the market, including AVI, FLV, MP4, 3GP, MKV, and MOV.
In addition, QQ Player also supports SRT, SMI plug-in subtitle, MKV embedded subtitle as well as multiple audio tracks switching. Its smart core technology auto detects video formats.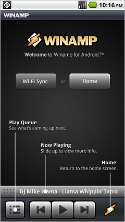 The only drawback is the fact that all the videos appear as a list; no file or folder views are available. The application is free and has been rated highly by users.
Winamp
We have used it on our desktops, and now it's also available on Android (version 2.1 or above). Its latest version allows wireless and wired syncing with the desktop's Winamp media player and iTunes library. It also allows imports of playlists. Besides, you get access to over 45,000 SHOUTcast internet radio stations.
There are some free MP3 download options as well. The application does play most file types. The user interface is nice with some gesture controls built in.
The biggest problem is that it seeks access to almost all the functions of the phone like logs and location, which is intrusive. Also, it consumes a lot of battery by trying to keep itself updated while not in use.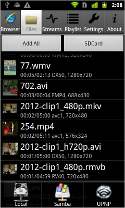 YX Player Pro
This video player for Android phones supports a wide variety of file formats including MPEG, AVI, MP4, FLV, MKV and WMV/ASF. For audio it supports MP3, AAC/AAC+, WMA, AC3 and PCM. What's more, the player can stream with a built in Browser and it also supports video from http, ftp, and mms.
The free version is advertisement supported and some users find that annoying. The paid version costs Rs 173 and does not have ads.
This list of video apps for Android is not an exhaustive one; you can get many more video applications to improve you phone's video capability. You can add a YouTube downloader (to download YouTube videos) and a TV application like Zenga TV, which will stream TV channels if you are using a fast connection, and there are also some streaming apps.