In last decade, two new computing segments emerged &#151 netbooks and tablets. However, the craze for the later has been surprising. Today over 20 different tablets are available or announced at global level and more than ten different brands have introduced their tablets in India. From all those tablets that have been officially launched and already available through the retail as well as online channels, we have selected five best tablets to suit all possible needs considering price &#151 features ratio.
The criteria for choosing these best five tablets includes larger display, good combination of hardware with software, presence of basic ready-to-use applications, 3G network support, Adobe Flash Player support, WiFi, Bluetooth and longer battery life.
Samsung Galaxy Tab 750 (Galaxy Tab 10.1)
Samsung's top of the line Galaxy Tab 750 is so far the best tablet with a good combination of hardware and compelling software.
Galaxy Tab 750 comes with 10.1 inch TFT LCD touchscreen display that supports 1280×800 pixel resolution and 149 pixels per inch. Since the tablet doesn't have any capacitive buttons on the bezel, it supports four-way rotation.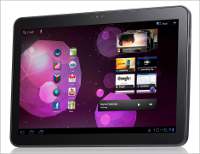 Powered with dual-core 1 GHz Nvidia Tegra 2 SoC Processor, the Galaxy Tab 750 comes with Android 3.x Honeycomb operating system with Samsung's own TouchWiz user interface laid on top of it with Live Panels, which provides a magazine-like widget view for immediate access to weather, social updates, email, news, photo gallery and more, all of which can be customized on the home screen.
At the back of the tablet, a 3 megapixel camera is decent yet unexplainably below par as the company uses 5 megapixel camera even in mid-range handsets. Users need to wait for the cross platform instant-messaging service ChatON.
In terms of hardware, the Galaxy Tab 750 is almost at par with other top of the line 10.1 inch display bearing tablets. It gains few brownie points with Bluetooth 3.0, 3G and dual-band WiFi support. Samsung has used its proprietary 30-pin connector port for charging and data transfer needs. The tablet comes with 8.6-mm slim form factor and offers 9 hours of battery life runtime.
Promising full 1080p HD playback, the tablet promises multimedia fun with the twin stereo speakers. Over all, the Galaxy Tab 750 models have elegant form factor with top of the line hardware and growing software.
The Galaxy Tab 750 is available in India for Rs 33,999. The heavy cost could've been justified if the HDMI adaptor and the USB adaptor had come bundled with the tablet.
Apple iPad 2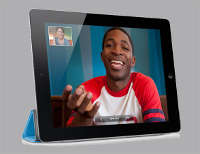 Owing to the popularity of the Apple products, the iPad 2 is undoubtedly the most popular tablet amongst the consumers. The Apple iPad 2 tablet comes with a nice 9.7 inch LED-backlit multi-touch display built using IPS technology supports 1024×768 pixel resolution at 132 pixels per inch. Packed with a dual-core 1 Ghz Apple A5 processor, the Apple iPad 2 comes with decent enough hardware power to run the iOS operating system smoothly. Apple has added two cameras &#151 one at back and one in the front which allows video chat over FaceTime.
The Apple iPad 2 has two major advantages over rest of the tablets &#151 several ready to use apps and clear video chat facility with FaceTime. Apple App Store has myriad applications ranging from Education, Productivity, Social Networking, eBooks and thousands of others developed specifically for the iPad 2. With iOS 5, which is set to come in the near future, this tablet will get iMessage app that will allow instant messaging over WiFi and 3G with other iOS devices.
However, even Apple iPad has Achilles Heel such as lack of ports and closed sync features (single-computer sync). One should seriously access these shortcomings before buying the iPad 2. Currently, the Apple iPad 2 (16GB, 32GB and 64GB) is available in India in two versions WiFi and WiFi+3G. Check this link to know the latest official pricing of the different models.
ASUS Eee Pad Transformer
ASUS Eee Pad Transformer is meant for features-rich tablet lovers. Sporting the 10.1 inch LED Backlight touchscreen display which is scratch resistant, the tablet supports WXGA 1280×800 pixel resolution. Under the 13mm hood, the tablet packs a dual core 1 Ghz Nvidia Tegra 2 processor coupled with 1 GB memory.
The Transformer runs Android 3.2 Honeycomb out of the box with ASUS Waveshare user interface layered on top of it. In terms of hardware and software, Transfomer is at par with the Samsung Galaxy Tab 750.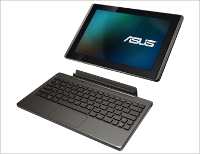 ASUS has paid attention to the short comings of the first generation Apple iPad and hence added several features to the Transformer tablet. For instance, the physical connectivity is powered with micro USB 2.0 port and micro HDMI ports that serve to be quite useful for connecting the tablet to the computer and larger displays respectively.
Transformer is yet another Android 3.x Honeycomb tablet sans capacitive buttons. At the back lies a 5 megapixel camera which is good enough to click images but lacks LED flash. In the front is a 2 megapixel camera meant for self-portrait imaging and video chat. Apart from the 16 GB internal storage, the tablet can accommodate up to 16 GB or 32 GB through a micro SD card depending upon the version. The tablet also comes with a built-in card reader.
Watching movies and videos is fun on this tablet since it supports SRS Surround sound with twin stereo speaker. Voice chat and Voice Search can be used with the built-in high quality microphone. Transformer stands out with the bundled keyboard with touchpad dock which boosts up the battery life to 16 hours for the tablet. The dock comes with its own 2 cell battery pack to power the tablet.
When it comes to price-features comparison, the ASUS Transformer takes the cake by offering almost all possible features at current street price of Rs 29,500.
Acer Iconia Tab A500
So far, the Iconia Tab A500 is the only Android tablet that stands close to the ASUS Transformer with similar features &#151 10.1 inch TFT LCD display with 1280×800 pixel resolution support, dual-core 1 Ghz Nvidia Tegra 2 processor, 1 GB memory and 16 GB onboard storage.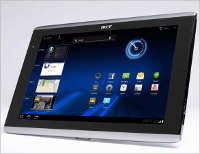 Acer Iconia Tab A500 comes with Android 3.x Honeycomb operating system with Acer UI layered on top of it. Along comes a set of custom set of Acer applications and improvements for better experience on the tablet. At the back lies a 5 megapixel camera with LED Flash for better imaging and in the front rests a 2 megapixel camera meant for video chat. Unfortunately, one needs to buy a Wireless Keyboard for the Acer tablet separately.
For physical connectivity, the tablet features micro HDMI, micro USB and also a full sized USB port. Acer has recently introduced the new Iconia Tab A501 model which comes with 3G Network support as well and is priced at Rs 32,990. While the Iconia Tab A500 WiFi version is available for as low as Rs 26, 900 online.
Acer falls behind when it comes to keyboard dock and also additional battery life. Acer has also introduced a Windows 7 running tablet Iconia W500 series which comes with AMD Fusion processor.
Motorola XOOM
First Android 3.0 Honeycomb based tablet &#151 Motorola XOOM comes with a premium finishing and the sleep/wake button at the back next to the camera. Motorola offers XOOM in WiFi Only and WiFi+3G models for India with 32 GB on-board storage. One can always expand the storage by adding up to 32 GB Micro SDHC card to the tablet.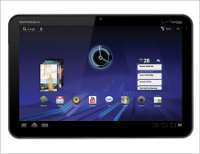 Motorola XOOM comes with 10.1 inch display supporting WXGA 1280×800 pixel resolution. Made form anodized aluminum and soft finish, the XOOM does end up being bit heavy with 730 grams weight. It would be fair to say that XOOM offers the pure Android 3.1 Honeycomb experience to the users. Under the anodized aluminum chassis rests a dual-core 1 GHz Nvidia Tegra 2 processor coupled with 1 GB memory to power the operating system.
The company so far has no plans to add any custom interface on it. Using XOOM one can record 720p HD videos with the 5 megapixel camera with dual-LED Flash at the back. Front facing 2 megapixel camera is meant for clicking self portraits and video chat. Motorola has added micro-USB and micro-HDMI for physical connectivity.
Motorola XOOM offers impressive 10 hours of battery life. Currently, the WiFi version of Motorola XOOM tablet is available for Rs 29,999 online. However, there is a good Rs 6,000 difference between a WiFi only model and WiFi+3G model.
Wrap up
Out of these five, the best tablet would be the one which would suit your requirements and also the budget despite of the fact that almost all tablets cost above Rs 28,000. For those looking for a tablet that offers consistent ease of use and loads of applications to enjoy &#151 Apple iPad 2 takes the cake. When it comes to design, polished software performance and light weight body, Samsung Galaxy Tab 750 wins over all.
For the well-informed folks who look for a feature rich tablet, should ideally go for ASUS Transformer for the overall feature-rich package.