Television market has seen a lot of innovations lately especially when we talk about the resolution. From Full HD (1080p) we have also seen TVs boasting 8K resolution. To explain what is 4K resolution in a TV, the screen resolution of 3840 x 2160 pixels is known as 4K. The name 4K here implies the almost 4,000 pixels (3840) in the resolution figure. Similarly, a 2K display is alsomts 2000 pixels (2560 x 1440 pixels) and Full HD further narrows it down to 1080 x 1920 pixels. While a 1080p screen should do the job for most of the people but if you are one of those who absolutely wants 4K in your next TV, here are we have chosen the best TVs with 4K resolution which are currently up for grabs in India. Note that we have taken TVs from all the categories in this list to make it affordable for everyone.
Samsung UAKS9000 series: (Rs 2,35,305 – Rs 3,79,900)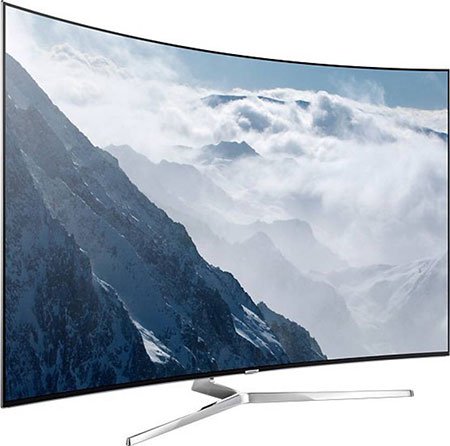 Starting with the higher end TVs, if budget is not an issue, Samsung's UAKS9000 series is probably the best option even if you just want a 4K TV. Ever since Samsung announced its KS9000 series in India last year, it has hardly faced any tough competition. Although LG's EG960T and EG930T OLED Curved TV's came close but are extremely difficult to find in the market so Samsung's KS9000 series still stands tall in the premium TV category. Inside the box, we get the TV unit (of course), a remote controller with batteries, user manual, power cable, slim gender cable, Samsung smart control. The KS9000 TV series come in 55-inches and 65-inches display sizes which are beautifully curved and bezel-less and come with Ultra HD (4K) resolution (3840 x 2160 pixels). These displays come with Samsung's Quantum Dot Display technology, HDR (High Dynamic Range) 1000, Micro Dimming, Auto Depth Enhancer, Auto Motion Plus etc. Being a Smart TV you get the ability to access apps, games, built-in browser and a tonne of other features such as Mobile to TV mirroring, Sound Mirroring, Analog Clean View, Advanced Sports Mode, Voice Recognition etc. It comes with a Quad-Core processor inside and also comes with built-in Wi-Fi with Wi-Fi Direct, Bluetooth, 4 HDMI ports, 3 USB ports, 1 Digital Audio Out port, 1 Component In (Y/Pb/Pr) port, 1 RF In (cable input) along with an HDMI Quick Switch. For audio, we get two speakers (one down-firing and one front-firing) along with a woofer which can throw out an audio output of 60 RMS with Dolby Digital Plus technology and DTS Codec. Samsung provides 1-year manufacturer warranty which does not cover accessories and transit damages. Currently, Samsung's Curved KS9000 series is available for Rs 2,35,305 for 55-inch size and Rs 3,79,900 for 65-inch size.
LG OLED 55E6T – Rs 2,74,000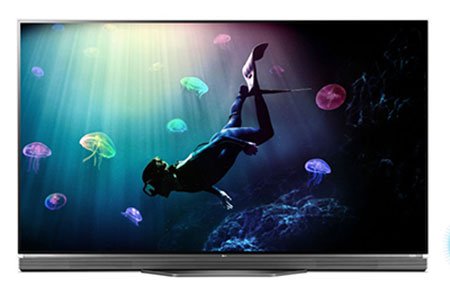 The OLED TV is currently available on both Amazon India and LG's own store with the best buy price of Rs 2,74,000. The 55E6T comes with a 55-inch 4K Ultra HD LED display with a resolution of 3840 x 2160 pixels. The TV offers 8 aspect ratio modes including 16:9, 4:3, 14:9, Cinema Zoom etc. Unlike Samsung UAKS9000 series, LG E6T series is a 3D Smart TV so you can enjoy all the 3D content along with a bunch of Smart TV features. The TV is powered by webOS 3.0 and comes with built-in Wi-Fi (with Wi-Fi Direct), Magic Remote, Voice Recognition, SmartHome, its own App Store, Full Web Browser, Music Player, Game World, Multi-View etc. In the Video department, the TV offers True 4K Engine, 3D Colour Mapping, Resolution Upscaler, Dynamic Clear White technology and 4K 60p HEVC Codec. For the audio, we get two 2.2 Channel speaker system which can offer an audio output of 40W RMS. On top of this, the entire sound mechanism is designed by Harman/Kardon and offers features like OLED Surround Sound, Cinema mode, Clear Voice, Cricket etc. Moving on to connectivity, we get 3 USB ports (1 USB 3.0 and 2 USB 2.0), 4 HMDI ports, 1 RF In port, 1 LAN port and Bluetooth headset connection capability. Another distinct feature of this TV is that it offers support for up to 25 languages, 11 of them being of Indian origin. Apart from this, we get a bunch of sensors such as Motion Eco Sensor, Intelligent Sensor and Smart Energy Saving functionality. LG also offers 1 year of manufacture warranty valid from the date of purchase.
Sony KD-43X8300D Ultra HD (4K) Smart LED TV – Rs 79,900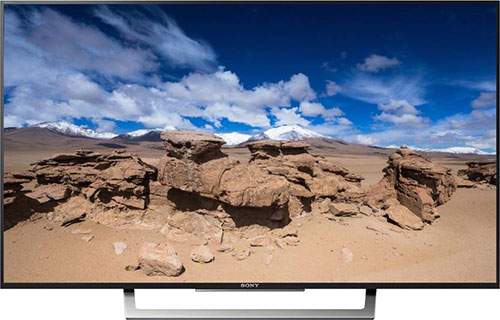 Sony has been in the Television industry for quite some time now and is considered one of the leaders especially in the premium categories. Going out of the way, the KD-43X8300D from Sony offers a 4K resolution display at Rs 79,900 on Flipkart. Inside the box, we get the TV unit, of course, a Voice Control remote, Warranty Card, 1 IR Blaster, 1 Analogue Extension Cable, 2 R03 Batteries, 1 Table Top Stand and the Instruction Manual. We get a 43-inch Ultra HD (4K) display which translates into a resolution of 3840 x 2160 pixels. Sony has given in its own 4K X – Reality Pro picture engine and offers 178 degree of viewing angle. The refresh rate is also impressive at 800 Hz and we get a bunch of options in aspect ratios. Coming to audio, we get 2 speakers with Dolby Digital audio with S-force Front Surround sound. We get a built-in Bass Reflex in these speakers which ensures a complete audio experience. In terms of connectivity, we have 4 HDMI ports, of which three are located on the side and on is at the back, 3 USB ports (Side), 1 headphone jack, 2 Composite Audio Video In, 1 RF In, 1 Audio Out, 1 Ethernet Input etc. Regarding power consumption, Sony has also included a built-in power saving mode which turn off the backlight to save a little more power. Lastly, the TV measures 960 mm x 564 mm x 45 mm and weighs 12.3 Kg (without any sort of mount). Sony gives 1 year of domestic warranty on this one.
Panasonic TH-49CX400DX – Rs 66,999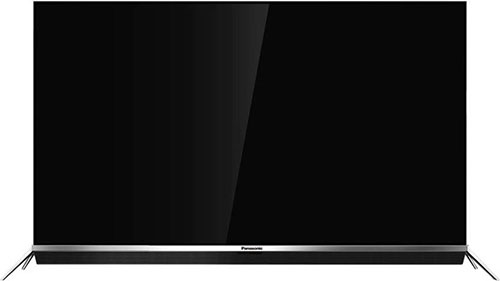 Panasonic's contribution in the Television space has been pretty solid in the recent past. While we do have options in the premium category as well, Panasonic's TH series is another mid-range option if 4K resolution is your requirement. Inside the box we get the TV unit, Pedestal, Power Cable and Adapter, Remote with batteries and a Wall Mount. This particular model comes with a 49-inch Ultra HD (4K) display with 178 degree viewing angles and Panasonic's Dot Noise Reduction technology. Apart from this we get a dedicated 4K Fine Remaster Engine and 100 Hz of refresh rate on this panel. Hitting the audio aspect, this TV comes with a sound bar housing 2 drivers which are capable of an audio output of 16 W (RMS). In terms of connectivity, we get 3 HDMI ports (2 Side 1 Rear) and 2 USB ports along with a composite video input, digital audio output, a headphone jack and all the other basic ports. For the dimensions, the Panasonic TH-49CX400DX measures 1094 mm x 672 mm x 55 mm and weighs 13.8 kg (without any sort of wall mount). Lastly, the TV also comes with 1 year manufacturer warranty for any sort of manufacturing fault.
Vu (LTDN55XT780XWAU3D) 4K Smart LED TV – Rs 55,999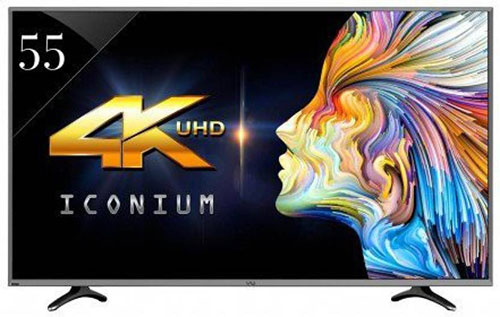 Throttling down the price even more, the Canadian television manufacturer – Vu has managed to make it to our top 5 list yet again. This particular 4K TV is probably cheapest in the lot with similar features to the one's listed above. As its the case with every Vu Television in the market, inside the box, we get 1 TV unit, a remote controller (with batteries), Power cable, User Manual, a Wall Mount along with the mounting bracket and a Table Top Mount as well. We get 55-inch LED display on this one sporting a 4K resolution i.e. 3840 x 2160 pixels. To ensure a premium viewing experience, Vu has given in a A+ Grade Panel, OSD Transparency Control and 1:1 Pixel Mapping. Apart from coming with a 4K resolution, this model is also a Smart TV. Vu has given in its own Smart OS along with an option of Miracast, Opera TV Store, TV Web Browser, Facebook, Picasa, Smart Features. For the audio, we have 2 speakers which are capable of an audio output of 20 W (RMS) along with a built-in audio enhancer, equalizer etc. In terms of connectivity, we get 4 HDMI ports, 3 USB ports, 1 headphone jack, 1 digital audio output, 1 RF In and other basic ports. The TV measures at 1239 mm x 717 mm x 83 mm and weighs 16.5 g (without any sort of accessory). Lastly, we get 3 years of Vu domestic warranty for this model.